Available from ECY Haulmark Ltd
Available ex stock.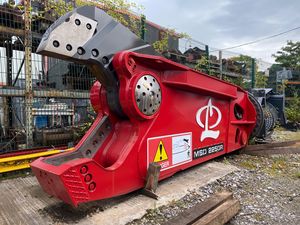 The LaBounty MSD2250R is a 5.5 tonne scrap shear is specifically manufactured for constant daily use in scrap metals recycling facilities and suitable for dipper or boom mounting.
LaBounty MSD shear have two side guide pucks on larger models and one on smaller models. These are essential on any shear to support upper jaw alignment.

They have a reversed cylinder to protect the piston rod. They use patented spin on systems, which avoids using bolts in the piston head. They also produce the piston rod from forged metal, which minimizes welding requirements inside the cylinder.
Replacing blades on the MSD shear is a quick, easy and straightforward process thanks to the use of bolts. Changing other types of shear blades using nuts can be a time consuming job of over an hour or more. The tip blades are reversible. A lot of scrap shears have a one usage tip blade only.
Savings on tip blades using a LaBounty shear can add up to as much as £3,000 annually on an MSD2250R compared to equivalent sized shears without reversible tip blades.

High quality rotation motors are standard on all MSD shears. Internal drain line, top quality speed valve (regenerative valve) along with top quality slew ring and rotary joints.
MSD shears are renowned for their strong residual value. Some of our customers shears are still in good working order 20 years after purchase.
Full MSD2250R spec available on request.
List Price: £114,000 plus VAT with a 10% discount available to BMRA members
Contact: Richard Yarwood
Tel 01925 269900, [email protected]