Available from Blaker Tech (Blaker Specialist Welding Repairs Ltd)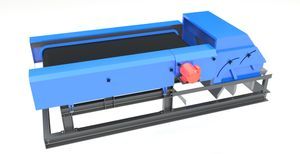 Company: Blaker Tech (Blaker Specialist Welding Repairs Ltd)
Overview of the equipment for sale:
Available from new
A robust recycling solution designed and tested to meet the tough demands of the metal and waste recycling industries.
Using a strong and continuous magnetic flow, the Magthro™ quickly and efficiently separates non-ferrous metals from mixed materials. This durable and easy to use system will increase profit margins by saving valuable materials that would ultimately end up in landfill.
How does it work?
To see the Magthro™ in action watch our 3D animation: Magthro™ 3D animation or visit: blaker.co.uk
Accessories
We can readily supply a range of ancillary equipment including: hoppers, shakers, drum magnets, upstream and downstream conveyors.
Price: POA
Contact: Robin Plater, [email protected]