Roca Metals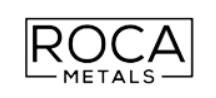 Location: Luton LU11XL
Hours: 6am – 15:00 + half day 2 x Saturdays per month
Salary: 30 – 45kpa
Overview of the company and role:
ROCA specialise in the production of copper and aluminium granules as well as trade other non-ferrous metals from our Luton based production facility/yard. ROCA have continually invested and reinvested into our plant and machinery investing in bespoke machinery to process CuAl-radiators on a commercial scale.
ROCA are scaling our production and need to build on our great team to grow and achieve our goals.
Key duties/responsibilities:
• Efficiently running the plant with fellow engineer.
• Working with management to achieve monthly targets.
• Running preventative maintenance and improving current maintenance schedule.
• Working with head engineer to repair damage.
Skills required:
• An understanding of Mechanical engineering.
• Team player, willingness to learn from other and teach your skills
• Willingness to learn and get your hands dirty.
• Forklift license is useful, however, training will be provided
• Accountability to take responsibility for machinery and actions.
• Ability to work under pressure and on time sensitive projects.
Benefits include: Competitive salary / Monthly discretionary bonus
Closing date: 29.07.22
Contact: Tom Payne, 07546 941504, [email protected]