The BMRA has received a letter from the Prime Minister congratulating the Association on its centenary year.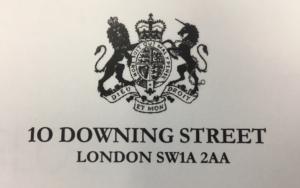 Mrs May said: "Recycling makes an important contribution to the UK economy and to the environment. Metals recycling in particular has helped to ensure that we can build our manufacturing economy and export materials, for which extraction from the earth would have had a significant economic and environmental cost."
In the letter, the Prime Minister also took the opportunity to recognise the valuable contributions the Association has made to the development of Government policy over the years. In particular our "input to the recycling and waste policy including matters related to end-of-life vehicles and the Government's Resources and Waste strategy".
She concluded by commenting that the industry should be proud of achieving our centennial milestone and for the contribution it has made over the last 100 years both to the economy and to the strength of the country's global trade.
Members can download a copy of letter here
For further information, please contact:
Antonia Grey
t. 01480 455249
m. 07812037613
e. antonia@recyclemetals.org
ENDS
Notes to editors:
1. The British Metals Recycling Association (BMRA) represents the £7 billion UK metals recycling industry.
2. The BMRA's 260+ members include large and small businesses in the ferrous and non-ferrous sectors including shredder operators, merchants and traders.
3. The UK metal recycling industry is so efficient at recovering metal from end-of-life products that more is recovered than can be consumed domestically. As a result, around over 80 per cent of all 'waste' metal is now destined for export. This means we are competing against suppliers from the USA and Japan who are not required to characterise recycled metal as waste.
4. Recycling of metals is also the major contributor to the UK's achievement of targets under EU Directives such as end-of-life vehicles and packaging.
5. In 2017, the UK exported over 9 million tonnes of recovered ferrous (iron and steel) metal and approximately 800,000 thousand tonnes of non-ferrous metal (such as aluminium and copper).