Dreamdrops raises money for Hinchingbrooke Hospital
BMRA donates to the paediatric A&E department at Hinchingbrooke Hospital through the local children's charity, Dreamdrops
A generous donation by a local trade association has made it possible to buy two children's vein finding machines for use in the A&E department at Hinchingbrooke Hospital.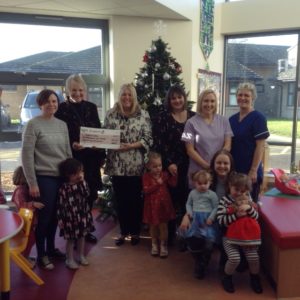 Huntingdon based British Metals Recycling Association (BMRA), the trade association representing metals recyclers, following a member of staff experiencing paediatric services at the hospital, picked Dreamdrops, a local children's charity that fundraises for the Special Care Baby Unit (SCBU)and Holly Ward (paediatric) at Hinchingbrooke Hospital as well as supporting community children's services.
The vein machines, the AccuVein AV500, cut the stress that children face when a cannula needs to be inserted, as it makes it easy to locate even the tiniest of veins.
Susie Burrage, President of the BMRA, after meeting Anne-Marie Hamilton, Chair of Dreamdrops, and learning about Dreamdrops' fundraising efforts, asked that the money be used for the vein machines, with any remaining monies being split three ways between Holly Ward, SCBU, and the community team.
The money raised was from the proceeds of raffles and auctions that were held during 2019 at two BMRA member events; a Golf Day held in June and the Annual Dinner in November.
Ms Burrage said: "I was keen to select a local cause as one of my President's charities for the BMRA's centenary year. Knowing the tremendous work the children's facilities at Hinchingbrooke Hospital do, Dreamdrops was a worthy recipient. Through our members giving generously by supporting our raffles and auctions, Dreamdrops has been able to purchase Hinchingbrooke Hospital two AccuVein AV500s. I know personally that these machines will help the staff enormously to treat young children."
Anne-Marie Hamilton, Chairman of Dreamdrops said: "We are thrilled to bits to receive such a generous donation from The British Metals Recycling Association as this 'cutting edge' equipment will be invaluable to assist staff who are caring for children in A&E who require cannulation. It is extremely difficult to locate veins, particularly in very small children, and having the benefit of an AccuVein to help, will make a significant difference to the experience of young patients receiving treatment."
NOTES:
The British Metals Recycling Association (BMRA) is the trade association representing the £7 billion UK Metal Recycling sector. It has been headquartered in Huntingdonshire for 46 years, previously in Brampton and most recently at Hinchingbrooke Business Park. Members of the public can use the BMRA website to find a metal recycler – www.recyclemetals.org.
Dreamdrops fundraises for two units at Hinchingbrooke Hospital as well as supporting community children's services. The units at the Huntingdon hospital are the Children's Unit – Holly Ward – which provides care for children, and the Special Care Baby Unit, Huntingdonshire's only neo-natal unit which cares for premature and sick babies. The money raised by the charity is used to provide those things that the NHS simply cannot afford, but would love to have. It's those items that can help make a child more comfortable, allow a young patient to go home to their family, get the latest equipment to improve a patient's experience, and take a bit of the stress away. www.dreamdropschildrenscharity.org
Contact:
Kate Magill
kate@recyclemetals.org