Members can now access a range of courses including IOSH and NEBOSH.
British Metals Recycling Association (BMRA) is pleased to announce that it has partnered with APT Health and Safety Training Solutions to offer members access to key training courses.
Members will be able to choose from a range of standard and bespoke health and safety training tailored to different workplace roles. The diverse list on offer ranges from IOSH and NEBOSH courses to fire marshal with safe use of fire extinguisher and forklift truck training.
James Kelly, Chief Executive of BMRA, commented: "I am really pleased that we can offer our members access to industry-focused training delivered by experts in the field. Our partnership with APT means that we can develop a suite of training courses that truly are fit-for-purpose. Furthermore, it is just the first step in our plans to provide members with a portfolio of health and safety related offerings. At the heart of this portfolio will be our newly updated health and safety manual, which we hope to launch towards the end of summer."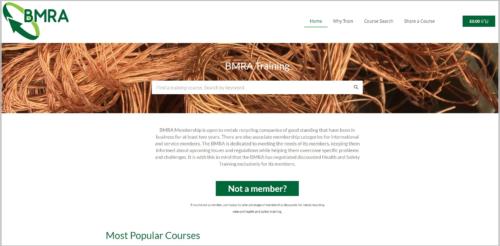 APT courses are accredited through NEBOSH, IOSH, MHFA England, CIEH, CITB, ECITB, AoFA and UKATA. APT itself is accredited by the Chartered Institute of Environmental Health, the Construction Industry Training Board, the Institute of Occupational Safety and Health and Mental Health First Aid England. At the same time, it is a member of the Association of First Aiders, the Fire Protection Association, the United Kingdom Asbestos Training Association.
"Delivered by qualified trainers, our high-quality training courses are designed to be effective and engaging for the trainee. More importantly, having trained a host of people in the metal recycling sector, we understand how to make our courses relevant for the trainee too. We are looking forward to working with the BMRA to further develop the offering as other training needs are identified," said Martin Blakemore of APT.
All the courses that are currently available can be found on the dedicated portal www.recyclemetals-training.org. Once a member has registered, all they have to do is book the course that interests them and they will benefit from reduced rates as a member. Another unique part of the offering is the ability to share courses with other metal recyclers. So, if a couple of members don't have enough trainees to justify hosting a course themselves, they can share the course with another local member keeping the course industry specific, whilst driving down costs. These are courses that could be hosted by one member or in a separate location like BMRA HQ.
For more information, please contact:
BMRA APT
Antonia Grey on 01480 455249. Dan Counter on 01782 213428
ENDS
Notes to editors:
1. The British Metals Recycling Association (BMRA) represents the £7 billion UK metals recycling industry.
2. The BMRA's 270+ members include large and small businesses in the ferrous and non-ferrous sectors including shredder operators, merchants and traders.
3. Metals recycling is a globally competitive and environmentally important industry. It supplies secondary raw material, which preserves natural resources, saves energy and reduces CO2 emissions by up to 80 per cent in metals production.
5. Recycling of metals is also the major contributor to the UK's achievement of targets under EU Directives such as end-of-life vehicles and packaging.
6. In 2018, the UK exported over 10 million tonnes of recovered ferrous (iron and steel) metal and approximately 800,000 thousand tonnes of non-ferrous metal (such as aluminium and copper).