BP Collin's hosted workshop at BMRA HQ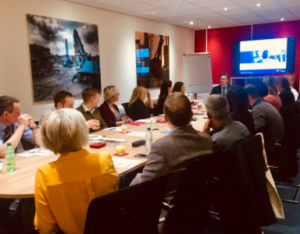 Thank you to all of the member's who attended the recent BP Collin's hosted worshop about how to engage with your EA officer during visits.
The session included how to avoid common pitfalls when dealing with letters from the EA, and offered tips and guidance when it comes to interviews under caution.
BP Collins LLP has extensive experience in the waste and recycling sector, and a dedicated, cross-practice, environment team, advising businesses on regulatory crime and industry-specific commercial issues.
Thanks to the members and BP Collins' for providing testimonials:
"It was great for Jon and I, on behalf of the environment group at B P Collins LLP, to have an opportunity meet and hear from a range of BMRA members on the environmental issues the sector is facing, and over the course of the workshop to feed back our experience of how best to tackle the various regulatory challenges posed. Being a service member of the BMRA allowed us to address the industry directly - it was a really enjoyable day and we would like to thank everyone for attending, many of whom had traveled from all over the country."
Simon Carroll, Senior Associate, BP Collins LLP
"We feel that this workshop was well presented and worthwhile. The Presenters illustrated a wealth of experience, supporting their explanations with examples of cases they had been directly involved. We gained information on how to conduct ourselves and the business should we find ourselves in a situation where the Environment Agency is concerned."
Donna Rogers, Rogers Metal Management LLP
"I thought the course was excellent. The content, delivery and knowledge of the presenters was excellent. Both speakers gave a really good insight into how businesses within our sector should react, to what can be a difficult and sometimes very daunting experience."
Scott Goring, Managing Director of BMRA member Kuusakoski Recycling
"The workshop was a great initiative, very informative, I feel gained a much better understanding of how the EA inspectors operate and also how to deal with future visits/communications. I would take part in future workshops as I found this one helpful."
Cheila Viegas, Health and Safety Compliance Advisor at BMRA member Chris Allsop Metal Recycling Ltd.