Cleaning oil using filtration.
BMRA service member Kleenoil Filtration sets out the benefits of cleaning oil using the method of filtration.
To demonstrate its use in the metal recycling industry, Kleenoil undertook a case study at fellow BMRA member, Sandbach Commercial Dismantlers Ltd. It used an independent laboratory to analyse the results and it confirmed the below findings.
Large machinery used in recycling – such as balers, shredders, shears and compactors – need to run on clean, dry oil. Anything but will result in regular breakdowns, with pumps being particularly affected. The last thing any busy metals recycling site needs is downtime.
Adding permanent extra filtration that will clean down to three micron while removing moisture as it is created in the same application, is beneficial to the overall operation.
One of the biggest concerns in outdoor operation is water ingress, and this can be addressed, even in fully emulsified oil, as this case study shows on a small application.
Dealing with water in oil
Objective: To cleanse water contaminated oil in Volvo excavator on site.
Despite changing the oil in its plant one of Kleenoil's customers was still facing issues. Upon investigation, it seems that due to the number of shafts, cylinders, and pipes, water was being blended back into the new oil thereby rendering it ineffective. Kleenoil undertook a cleanse to remove the moisture and improve the oil.
To prevent this happening again, the customer opted to install the Mobile System 4-unit (MS4). The MS4 is a selfcontained unit, with its own pump and motor to facilitate suction, cleansing and release back into the same tank or as a transfer/purge system. It is ideal for cleaning most hydraulic gear and transmission fluid, particularly as it is portable. It is also used for oil and fuel transfer and rotational cleaning of factory and industrial equipment.
Although the MS4 has a small hydraulic tank (200 ltr), the level of water contamination in this instance indicated several cartridge changes to remove it.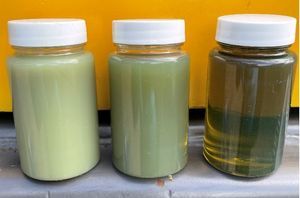 An MS4 offers a flow rate on oil of approx. 1,000 l/hr with a water retention capacity of 750ml per cartridge. The system includes the Micromag MM10, which removes ferrous particulate to submicron level. The 4 KLEENOIL SDU9788KU85 can remove all particulates down to 3 micron as well as moisture. Reports have shown that it is nearing that in this case study.
New cleaned oil straight from the barrel is ideally rated ISO 18/16/13 (NAS8), an advisory that can vary massively. Sandbach's reading was ISO 19/16/10. A code of 19/16/10 acts as 19 in this case is number of particles per ml at 4-micron size or greater- 16 is at 6 micron or greater and 10 is at 14 micron or greater. To offer a relationship to size of micron – a hairs width is around 40 -75 micron!

Kleenoil has manufactured cellulose depth filtration in the UK for over 40 years alongside a service team to ensure ongoing filtration maintenance onsite throughout the UK as well as Exporting Worldwide.