2019 award won by Avon Specialty Metals

The Awards for Excellence in Recycling and Waste Management is looking for nominations in the 2020 Metals Recycling Business of the Year category.
The award, which is sponsored by BMRA service member Liebherr, aims to recognise the work done by a metals recycling business, small or large operating in the UK which has provided a service in a consistent and thorough way for its customers.
The BMRA have been informed by the organisers that the entry deadline has just been extended by a week until Friday 20 March, so you still have plenty of time to make an entry!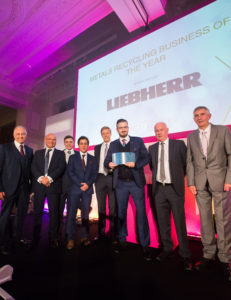 Last year's winner was Avon Specialty Metals. Steve Eminton, editor of letsrecycle.com and part of the judging panel said, "Avon won the award for their excellent work specialising in complex alloys from the aerospace and power industry. As the second recipient of this award, they were a very worthy winner."
What's more, BMRA's very own Antonia Grey will be part of this year's judging panel so we look forward to seeing entries from BMRA members!
Winners will be recognised at a glitzy ceremony on 14 May 2020 at the luxurious Landmark Hotel in London. If you think you have what it takes then visit www.awardsforexcellence.co.uk for more information.