On the evening of Friday 17 June, around one tonne of expensive alloys was stolen from Fort Vale Engineering near Burnley, Lancashire.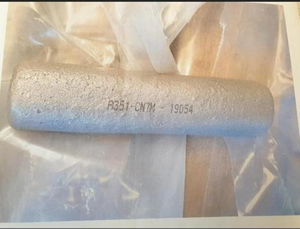 Details of the stolen items are as follows:-
CW12MW / Hastelloy Ingots – 394 kg
Alloy 20 Ingots – 400kg
316 Additives:

50 full sets (Spec – 0.6kg Ferro Molybdenum / 8.5kg Low Carbon Ferro Chrome / 0.075kg Ferro Sulphide, per set)
50 bags Ferro Molybdenum
50 bags Ferro Sulphide

Bin of Copper additives – 6kg
Bin of Nickel additives -14kg
The Ingots are stamped with a casting number as shown in the photo below.

Anyone with information is asked to email [email protected] quoting incident reference LC-20220622-0586.