2019 is a year of celebration for the BMRA and its members.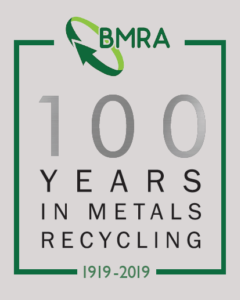 100 years ago, the National Federation of Scrap Iron and Steel Merchants, a predecessor of one of the bodies that formed the BMRA, was established to address changes after World War I that were to significantly increase the impact of government on business.
In the following years, several different trade bodies representing different metal types (ferrous and non-ferrous) and areas in the UK were set up. BMRA itself was formed in 2001 when the British Secondary Metals Association and the British Metals Federation merged in order to better serve the rapidly changing industry.
Since those early days in 1919, the industry has faced a host of socio-economic, historical and legislative events, including; the Great Depression; the national salvage campaign of WW2; the Scrap Metal Dealers Act 2013 and the Air Weapons Licensing (Scotland) Act 2015; and, of course, Brexit.
To celebrate its centenary, BMRA will be publishing a commemorative book later in the year in partnership with Environmental Media Group (EMG), the publisher of letsrecycle.com and the organiser of the MRE and CARS events. The book will be avilable to purchase soon.
.