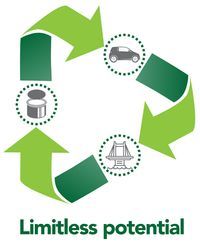 Metal is 100% recyclable, it is permanent, and it can be recycled forever, over and over again. It contributes to the circular economy, avoiding landfill, as well as saving the destruction of natural habitats caused by the mining of metal ore.
Because it can be recycled time and time again, it has limitless potential. A drinks can could become a plane. A bridge could become a bicycle. Your brass door handle could become a trumpet. Gold in your mobile phone could become an Olympic medal. And then, they could all become something else!

What do you want your metal to become?
Share with the BMRA on social media ahead of Global Recycling Day on 18 March and tell us about your metal's limitless potential.
You can see some example videos via the BMRA YouTube channel - thanks George, Etienne and Donna!
Use the hashtags #GRD2023 #metalgoals
Click the image below to watch the video.