Watch a video about the award. Click on the below image:
The award recognises those with longstanding contributions to the metals recycling industry.

With six recipients awarded a year, members can nominate someone to put forward for the award based on the following criteria:
The nominee should have been in the industry for at least 25 years
The nominee may have worked in their own firm/or for other firms
The award is a recognition of longevity and experience.
People nominating will be asked to include no fewer than 200 words as to why this person should be a Service to British Metals Recycling (SBMR) recipient. If people have previously been nominated for a Lifetime Achievement Award, they can be nominated for this award.
If people have previously been nominated for a Lifetime Achievement Award, they can be nominated for this award.

Download a nomination form.

Completed forms and/or any questions can be sent to [email protected]
Previous recipients
2022 - Bernie Porter of BH Porter & Sons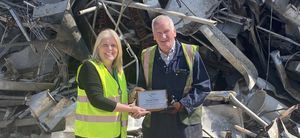 2022 - Jack Gomarsall of N2S