"Together, as members of the BMRA, we can support the innovation of new metal recycling techniques and lobby stakeholders to keep the UK at the forefront of the profitable world recycling industry." Mellor Metals
BMRA members can take advantage of:
Getting involved via a BMRA committee
Joining fellow members at exclusive membership events
A dedicated page on the BMRA website
An exclusive members only area of the website
Promoting yourself to fellow members
Accessing Service Members
Advertising your equipment, jobs and wanted items
Supporting the future of Metals Recycling throug apprenticeships and the Young British Metals Recyclers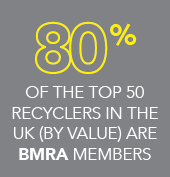 Join the BMRA
BMRA membership is open to metals recycling companies of good standing that have been in business for at least two years.
The British Metals Recycling Association (BMRA) is the only trade association representing all UK metal recyclers.
The BMRA keeps members informed about upcoming issues and regulations, while helping them overcome problems and challenges related to running a metals recycling business.
As well as UK metal recyclers (ordinary members), there are also associate membership categories for international and service members.

To join the BMRA, download the appropriate application form from the link below, provide the appropriate documentation and references, and return to [email protected]. All applicants must read the Articles of Association (link below) in conjunction with the code of conduct found in the application pack.
Please note, applications can take up to two weeks to complete, subject to references and payment.
Benefits of membership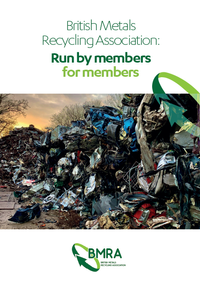 In-house technical, regulatory, legislative and environmental advice
Employment and business support helpline
Reduced rate insurance - subject to terms and conditions
Access to bespoke training
Bespoke health and safety manual and accompanying site posters
Energy brokerage
Assistance with business water supply
Reduced rate legal advice and representation
Discounted rates on medical and travel plans for business and employees
Discounts on IT and access to tech advice for business and employees
Discounted contract and legal services
Savings of up to 40% on Sage products
Discounted PPE
Why not download an application pack and join today?