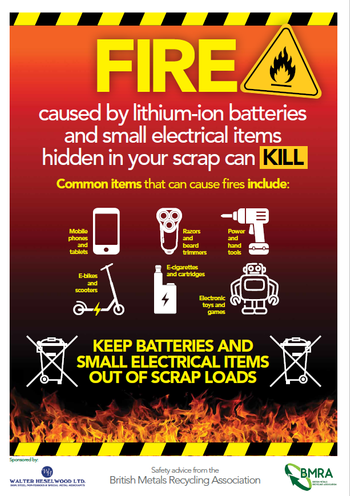 What is a lithium-ion battery?
A lithium-ion battery is a type of battery that is rechargeable. Some batteries can contain lithium even if they don't require to be recharged. Read this interesting blog about why a lithium-ion battery might catch fire. Source: Saur Energy International
What is WEEE?
WEEE is the acronym for Waste Electrical and Electronic Equipment items. It is any electrical item, be it for use in a household or not, that contains batteries or has a plug (or both). Learn about WEEE Regulations.
WEEE items can contain lithium-ion batteries (usually those that can be recharged). Items include:
Communications and computer/IT equipment such as tablets, mobile/smart phones, computers and radios
Personal care electrical items such as beard trimmers, razors and electric toothbrushes
Power tools such as drills, sanders, saws and grinders
Electronic toys and games especially toys that need to be recharged or light up/speak etc
E-bikes and electric scooters
E-cigarettes (including disposable ones) and associated cartridges
Other WEEE items that can be recycled include:
Small household appliances, e.g. kettles, food processors, and toasters
Large household appliances, e.g. fridges, ovens, and washing machines.
Why are lithium-ion batteries dangerous?
When tampered with, destroyed or in any way pierced or broken, a lithium/lithium-ion battery can explode, cause a fire, even electrocution. They pose a huge risk to people and places, which is why it is important they are not put in general waste, kerbside recycling boxes or bins or scrap loads. They can be recycled, but separately.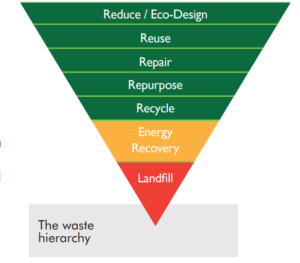 How and where to recycle WEEE and batteries
Find a dedicated WEEE recycler near you: www.recyclemetals.org/recyclerdirectory. Call ahead to check the type of material taken.
Check your council website for details of your local HWRC that can take lithium-ion batteries and WEEE.
Recycle Your Electricals is a UK-wide campaign motivating and making it easier for everyone to reuse and recycle unwanted electricals, ensuring we make the most of the valuable materials in them. Find a place to take your electricals near you: www.recycleyourelectricals.org.uk
Why recycle lithium-ion batteries and electricals?
Lithium-ion batteries and electricals contain metal resources that will have been mined from the ground. Recycling them means that these resources such as lithium, copper, gold, silver, to name a few, are used again so that there is no need to mine the earth for them.
Metal is 100% recyclable, it is permanent and it can be recycled over and over again.
By recycling batteries and WEEE, not only are you making it safer for workers in waste and recycling, you are protecting the environment and saving the energy it takes to make brand new items. This reduces carbon in the earth's atmosphere and reduces your own carbon footprint.