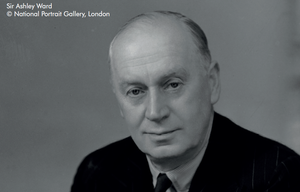 In 2018, the BMRA hosted past Presidents at its headquarters in Huntingdon. Susie Burrage, the BMRA's current President, unveiled the new Presidents' plaques. These list all the Presidents of the different ferrous and non-ferrous associations and federations since 1920 that came together in 2001 to form the BMRA. The plaques also include BMRA Directors General and CEOs up to present day.
We were delighted that some of the past Presidents could attend. These were: Robert Cooper TD (1984-1986), the Cooper Group later becoming European Metals Recycling; David Yendoll (1995- 1996), Philip Metals; Tony Dodds (1994-1995), Sackers; Roger Brewster (1989-1990), Metal Interests; Tony Bird OBE (1979-1980), The Bird Group; Peter Mathews CMG (1997-1999), Black Country Metals; and Colin Bedford (1987-1988) Total Waste Management.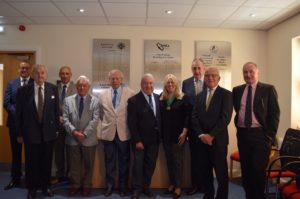 There were also current board members and former presidents, Shane Mellor (2014-2016) of Mellor Metals (celebrating 41 years in scrap on the day), and Graham Davy (2012-2014) of Intelligent Lifecycle Solutions. In addition, former Director General Lindsay Millington (2005-2008) also joined us. More recently, a plaque listing the former Scottish Metals Association's past Presidents has been unveiled.
British Metals Recycling
Association Presidents

2001 – 2002 Caimin Rowntree
2002 – 2005 George Bond
2005 – 2008 Peter Brookes
2008 – 2010 Michael Wright
2010 – 2012 Michael Oppenheimer
2012 – 2014 Graham Davy
2014 – 2016 Shane Mellor
2016 – Susie Burrage

Directors General /
Chief Executive Officers
of the BMRA

2001 – 2002 David Hulse
2003 – 2004 Neil Marshall
2004 – 2005 Rick Wilcox
2005 – 2009 Lindsey Millington
2009 – 2016 Ian Hetherington
2016 – 2018 Robert Fell
2019 – James Kelly
British Scrap
Federation Presidents

1920 – 37 Sir Ashley Ward
1937 – 38 R W Hale
1938 – 39 J Douglas
1939 – 40 J W Thompson
1940 – 41 M Henderson Clark
1941 – 42 S T Bacon
1942 – 43 E G Rees
1943 – 44 A T Smyth-Tyrrell
1944 – 45 H V Cashmore
1945 – 46 G H Campbell
1946 – 47 R Taylor
1947 – 48 W A Davie
1948 – 49 H W Secker OBE
1949 – 50 A Ettery-Wood
1950 – 51 R Urquhart
1951 – 52 C Fanshawe
1952 – 53 R M Paterson
1953 – 54 H B McKee
1954 – 55 M Henderson Clark
1955 – 56 C Roberts MBE
1956 – 57 D E Wilson
1957 – 58 F L Levy
1958 – 59 G Amyer Borrow
1959 – 60 J A Connell
1960 – 61 G Rollinson
1961 – 62 J E Ellis
1962 – 63 H B Brook
1963 – 64 E G Mort
1964 – 65 A Cooper
1965 – 66 F W G Church
1966 – 67 G Muir
1967 – 68 K L Young
1968 – 69 A L P Wood
1969 – 70 A L P Wood
1970 – 71 M Wallace
1971 – 72 A Cooper
1972 – 73 E F Powell
1973 – 74 W D Smith
1974 – 75 J M Bissett
1975 – 76 D L Freeman
1976 – 77 H B Brook
1977 – 78 E J Cross
1978 – 79 J E C Wheatley MC JP
1979 – 80 A P Bird OBE
1980 – 81 J J Smith
1981 – 82 C B Nutter
1982 – 83 R E Robinson MBE
1983 – 84 T R Hill
1984 – 85 R Cooper
1985 – 86 R Cooper
1986 – 87 P A Neenan MBE
1987 – 88 C L Bedford
1988 – 89 A M McDonald
1989 – 90 D P Monaghan
1990 – 91 G Searle
1991 – 92 R G Smith
1992 – 93 P R Harrison
1993 – 94 S A Hill
1994 – 95 C A R Dodds

British Metals Federation
Presidents

1994 – 95 C A R Dodds
1995 – 96 H D Yendoll
1996 – 97 P Mellor
1997 – 99 P M Matthews
1999 – 00 J R Adam
2000 – 01 G D Bond

National Association
of Non-Ferrous
Scrap Metal Merchants Presidents

1942 – 43 H B Barnard
1943 – 44 F M Garnham
1944 – 45 V Brenner
1945 – 46 S W Platt
1946 – 47 P Benson
1947 – 48 R J Coley
1948 – 49 F M Garnham
1949 – 50 V Brenner
1950 – 51 M C Engers
1951 – 52 S W Platt
1952 – 53 G B Garnham
1953 – 54 J ChaImers
1954 – 55 R W Coley
1955 – 56 L Lazarus
1956 – 57 D J R Austin
1957 – 58 M C Elton
1958 – 59 Mr Barnett
1959 – 60 J K Lion
1960 – 61 H G Shields
1961 – 62 A G Robinson
1962 – 64 V Brenner
1964 – 65 J K Lion
1965 – 66 S Sternberg
1966 – 67 R W Coley

British Secondary Metals
Association Presidents

1967 – 68 D K Stirrat
1968 – 71 F J Church
1971 – 72 T R White
1972 – 73 R L Deutsch
1973 – 74 T F Lebentz
1974 – 75 G Bean
1975 – 76 A Merrills
1976 – 77 D J Cottrell
1977 – 78 T Sturmey
1978 – 79 I J Graham
1979 – 80 R J Goode
1980 – 81 A Spencer
1981 – 82 L C Henwood
1982 – 83 M C E Lion
1983 – 84 P A Holland
1984 – 85 R A Voss
1985 – 86 D J Hall
1986 – 87 D F Bevan
1987 – 88 M Pownall
1988 – 89 A M Cleak
1989 – 90 R A Brewster
1990 – 91 T D Wemyss
1991 – 93 A J Hyams
1993 – 94 C G Rowntree
1994 – 95 E Mason
1995 – 96 S G Meaking
1996 – 97 T George
1997 – 98 Bensusan
1998 – 99 K Grosvenor
1999 – 01 C Rowntree

Scottish Metals Association


1917 – 1919 J Dick
1920 W MacLellan
1921 J M Walker
1922 W Samson
1923 J Jackson
1924 W M C Dalziel
1925 J Young
1926 R L P Bell
1927 G H Campbell
1928 J McSkimming
1929 W Muir
1930 J Jackson
1931 J Findlay
1932 G A Dudley
1933 J T A Dick
1934 W Muir
1935 W Sloan Smith
1936 J Douglas
1937 J Clark
1938 G H Campbell
1939 W Muir
1940 J N Connell
1941 – 1942 J Douglas
1943 W R Anderson
1944 J N Connell
1945 J Clark
1946 – 1947 R M Paterson
1948 H D Watt
1949 W Smith
1950 J L Chalmers
1951 H Brodie
1952 G Muir
1953 J G Chalmers
1954 J N Connell
1955 W Smith
1956 M Brechin
1957 R M Paterson
1958 A J Hepburn
1959 H Brodie
1960 J N Adam
1961 G Muir
1962 J G Chalmers
1963 R G S MacLellan
1964 J N Adam
1965 D B lrelenad
1966 J Ingram
1967 H Brodie
1968 A MacWilliam
1969 J J Smith
1970 J N Adam
1971 J G Chalmers
1972 W Douglas Smith
1973 K E L Brown
1974 J J Smith
1975 N Hepburn
1976 R Beveridge
1977 D Waugh
1978 – 79 D Ferguson
1980 W Douglas Smith
1981 – 82 J R Adam
1983 – 84 J D MacWilliam
1985 – 86 R L Kerr
1987 – 88 J W Robinson
1989 – 90 J Eadie
1991 – 92 K E L Brown
1993 – 94 J R Adam
1995 – 96 R L Kerr
1997 – 98 R Dingwall
1999 – 00 M Tracey
2001 – 02 D Walker
2003 – 04 D McCartney
2005 – 06 S Kerr
2007 – 08 J Adam
2009 – 10 A Waugh
2011 – 12 I Williamson
2013 – 14 B Harkins