Seaforde Metals' paper trail is a historical treasure trove
"First deal, April 4th, 1920" wrote Peter Killen in his first entry in his crisp new ledger entitled 'Scrap Book'.
Scrawled in pencil, the looping letters noted the tons of scrap metal collected down the left-hand side of the ledger, the names of his customers – Mr Dickson, Mr Savage, Mr Carr, and others – in the middle and the price carefully listed on the right.
Most importantly, at the bottom Mr Killen noted: "Received first money for scrap, Tuesday 15 June 1920, profit £14.09. Well satisfied."
As years passed, the yellowing paperwork could easily have ended up in the bin.
Instead, along with dozens of other documents, receipts and countless photographs, it survived to be years later uploaded to Seaforde Metals' website.
That alone would surely have boggled the mind of Peter Killen.
However, the County Down firm's extensive archive not only shines a light on the birth, growth and ups and downs of a 100-year-old firm, it also offers a glimpse into a unique period of Irish history spanning partition, and the family that pushed through hardship and health troubles to keep Seaforde Metals going.
According to John Killen, Peter's grandson the digitised archive is a reminder that the only certainty in business is that nothing is certain.
"In 1920, my grandfather's profit was £14.09. But a few pages along in 1922 it was down to £3.50," he points out.
"Over 100 years there have been good times and bad times, just as there are now. You only have to look at those two entries to see how things change."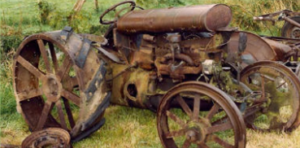 The first ledger, however, tells just part of the story. The business's roots stretch even further, to the Irish potato famine.
A fungal disease ripped through Ireland's potato crops in 1845, leaving many already desperately poor families so starved that the only option for survival was to seek work elsewhere.
For John's ancestors, that meant leaving Farranfad, 25 miles south of Belfast in 1850 and crossing the Irish Sea to Cumbria.
There his great grandfather Hugh established a coal delivery business and built houses, raising a family with wife Annie and suffering the loss of several children.
The family returned to Farranfad in the early 1900s. Aged 22 and with his father's eye for business, Hugh's son, Peter, made those first transactions against a backdrop of the Irish War of Independence which would eventually lead to the partition of Ireland.
One of the key documents conserved in the archive is a General Dealer's licence dated 30 April 1920, issued by the Irish law courts almost exactly a year before partition and the creation of Northern Ireland.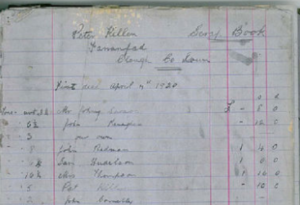 Keeping it proved useful when, decades later, Northern Ireland civil servants attempted to crack down on firms they believed were operating without appropriate licences. They document was gleefully produced to prove that; indeed, Seaforde Metals was properly licenced.
"Waste management licences were introduced," says John. "Firms needed planning permission and they had to prove they had been working more than 10 years.
"It was another government hoop to jump through, but some firms struggled.
"During the Troubles, a lot of things didn't run normally. People would have got permission but there were places the police didn't want to go, never mind a planner from the planning office.
"Some just didn't have the documents. Luckily, we had this."
The paperwork sits alongside receipts for Peter's first vehicle – an addition to his horses and carts – and, dating from 1928, a receipt from Victoria barracks in Belfast, where he earned £1.5/ - for two old baths and £28 for seven tons of cast iron.
In those days, much of the firm's early work saw Peter transporting metal to Belfast docks and bringing farm goods back, with obvious wear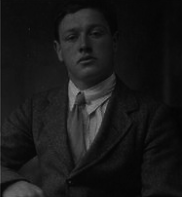 and tear to vehicles. One receipt shows that fitting a new petrol pump to one lorry in the mid-1930s would set him back a mere £3.2/9d.
By the Second World War Seaforde Metals was carrying paperwork to prove its 'key worker' status. A bright pink docket from the ministry of Supply confirmed it as a bona fide scrap iron and steel merchant – vital at a time when metal for the war effort was at a premium.
John's father Lawrence joined the business aged 14 in the early 1950's, entering a yard crammed with more than 250 cars and, according to one newspaper report contained in the archive, "everything from a needle to an anchor".
Among the treasures collected down the years by now grey-haired Peter was a hand-operated threshing mill, a cell door complete with warden's peep hole, and an old horse-operated barn machine. The yard even housed a twin-engine aeroplane.
"it would have been easy to ditch", says John. "But my father had a good eye for history. He knew that someone would want certain things eventually."
That appreciation extended to dozens of photographs which capture the yard and men at work, old vehicles oiled high, rusting farm machinery, vehicles and customers. Together they've turned the Seaforde Metals' website into a unique social history site.
Many pictures are from the 1970s, when the firm expanded into demolition and in vested heavily in cranes, lorries and, in 1972, a metal baling press. Its purchase saw Lawrence enlist no less than the Northern Ireland Prime Minister's assistance to get a government grant.
"The Prime Minister, Brian Faulkner, was a neighbor. Back then, a phonecall could sort a lot of things out," adds John. "It was a Dutch-built machine and cost £13,000 – you could buy a house for £2,5000 at the time.
"We sold it in the mid-1980s, and it was still going strong."
Lawrence's collection of vintage vehicles and farm machinery including ploughs, pumps and rollers was auctioned after he was diagnosed in 1979 with skin cancer.
Given just four months to live, he confounded doctors by surviving a further 17 years, continuing to grow the business.
Now, after a century and with a third generation John at the helm, the firm's core remains the same: collecting scrap metal, although in these days in skips, with a fleet that includes a HIAB lorry, roll on/off vehicles and an articulated lorry rather than a horse and cart.
Scrap now tends to end up at Warren Point docks for export to Spain.
With the centenary celebrations on temporary hold due to COVID-19, the archive of papers, photographs and videos are particularly poignant. Apart from attracting visitors to the website looking for a slice of nostalgia, John points out that they serve as a reminder that not everything in business runs smoothly and that there's often a way through to the other side.
And that sometimes even things that appear of little value can be worth keeping.
"Most people shred papers. But I keep up to 50 random documents each year," he adds. Maybe in 50 years' time someone will look through them and be fascinated too."
Words by Sandra Dick.
Seaforde Metals is a BMRA member, based at Farranfad Road, Seaforde, Downpatrick, County Down. www.seafordemetals.com.
Thank you to Skip Hire Magazine for permission to reproduce this article. https://www.skiphiremagazine.co.uk/
https://content.yudu.com/web/43rn4/0A43rn5/June2020/html/index.html?page=36&origin=reader
Seaforde Metals featured in the BMRA's centenary book, '100 Years in Metal Recycling'. To order a copy of learn more, visit https://www.recyclemetals.org/about-bmra/100-years-in-scrap.html.