Accompanying posters highlight potential dangers in the yard
11 August 2020, Huntingdon, UK: The British Metals Recycling Association (BMRA) has relaunched its prestigious Health and Safety Manual. The Manual, which has been an invaluable resource for members, will be accompanied by a new set of posters focusing on the key Health and Safety issues found on metal recycling sites.
BMRA's health and safety offering has been developed to help its members ensure their sites are a safe space in which to operate. Working with experts in the field, BMRA has updated the Manual to ensure it takes account of changes in legislation and wider health and safety practices.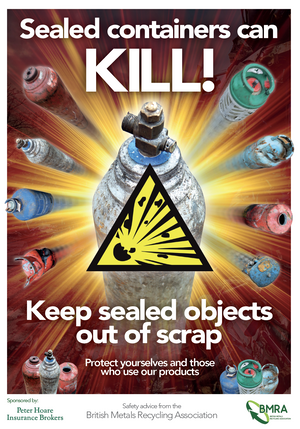 BMRA is launching the first two chapters today: Section 1 Health and Safety Administration and Section 2 Health, both of which can be found in the members' area of the BMRA website www.recyclemetals.org/healthandsafety. At the same time, every yard in membership should receive the first poster – tackling concealed cylinders – this week.
The next poster, which will focus on radiation, and the supporting chapter should be available at the end of September with a poster on batteries in relation to fires due in late October.
"Maintaining a strong focus on health and safety issues and legislation is a key responsibility for all metal recycling operators, which is why we are really pleased to be able to offer members access to the updated BMRA Health and Safety Manual" said James Kelly, CEO, BMRA. "As we publish the chapters over the coming months it will build into a complete resource for those running a metal recycling yard.
"We have also been able to develop a new series of Health and Safety posters for members to display in their yards. This new set of posters will cover new issues that were not present when we had previously produced them. These posters are very well received and incredibly popular with our members, with many asking for additional copies. BMRA is very grateful to Peter Hoare Insurance Brokers for sponsoring the first poster. Their support has made it possible for us to send members a robust poster that is fit for use in a metal recycling yard.
"We look forward to receiving feedback from our members on both the Manual and the posters."
Contact for BMRA:
Antonia Grey
t. 01480 455249
e. [email protected]
Twitter @BMRAUK
Facebook/BMRA
About the BMRA and metals recycling:
The British Metals Recycling Association (BMRA) is the trade association representing the £7 billion UK Metal Recycling sector. It has been headquartered in Huntingdonshire for 46 years, previously in Brampton and most recently at Hinchingbrooke Business Park. Members of the public can use the BMRA website to find a metal recycler – www.recyclemetals.org.
The UK metal recycling industry is so efficient at recovering metal from end-of-life products that more is recovered than can be consumed domestically. As a result, over 80 per cent of all 'waste' metal is now destined for export. This means we are competing against suppliers from the USA and Japan who are not required to characterise recycled metal as waste.
Every tonne of recycled steel saves: 1.5 tonnes of iron ore, 0.5 tonnes of coal, 70% of the energy,40% of the water, 75% of CO2 emissions, and 0.97 tonnes of CO2.
Recycling of metals is also the major contributor to the UK's achievement of targets under EU Directives such as end-of-life vehicles and packaging.
In 2017, the UK exported over 9 million tonnes of recovered ferrous (iron and steel) metal and approximately 800,000 thousand tonnes of non-ferrous metal (such as aluminium and copper).