Metals recycling appears on 'Maddie's Do You Know?'
BMRA member and metals recycler S Norton & Co has featured in an episode of the popular Cbeebies preschool show, 'Maddie's Do You Know?'.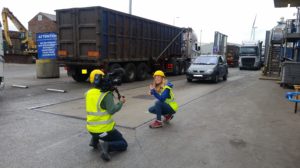 Filmed at S Norton's Bankfield depot in Liverpool, the episode, hosted by Maddie Moate, follows a car's journey as it is transformed into shredded scrap metal ready to be exported across the world.
Preschoolers and younger viewers will see how a car has oil and petrol taken out of it on the depolluting rig, before it makes its way through the shredder and to the dockside. Even Maddie's famous Go Pro gets to ride on a 360-grab showing a close up of metal being put into the shredder.
A representative from S Norton said: "We were pleased to welcome Maddie Moate and the crew of 'Maddie's Do You Know?' to our Liverpool depot. It was a good to be able to demonstrate the importance of metals recycling to the younger generation. 95 % of a car is recycled, not just the metal, the plastic too! Metal is 100% recyclable and programmes like this are an excellent way for children to be educated in recycling, encouraging them to recycle more."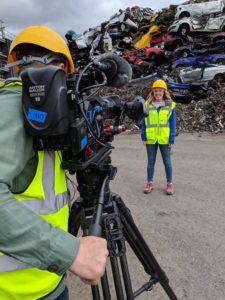 The episode aired on Monday 9 September on the Cbeebies channel and is available via the BBC iPlayer for 29 days https://www.bbc.co.uk/iplayer/episode/m0008c0n/maddies-do-you-know-series-3-16-metal-recycling-centre-and-road-sign
S Norton is a member of the BMRA, a trade association that represents the £7 billion UK metals recycling industry. The BMRA's 260+ members include large and small businesses in the ferrous and non-ferrous sectors including shredder operators, merchants and traders, as well as businesses who provide services to the metals recycling industry.
Contact for BMRA:
Kate Magill
t. 01480 455249
e. kate@recyclemetals.org
Twitter @BMRAUK
Facebook/BMRA
Contact for S Norton:
info@s-norton.com
0151 955 3300
About the BMRA and metals recycling
1. The UK metal recycling industry is so efficient at recovering metal from end-of-life products that more is recovered than can be consumed domestically. As a result, over 80 per cent of all 'waste' metal is now destined for export. This means we are competing against suppliers from the USA and Japan who are not required to characterise recycled metal as waste.
2. Every tonne of recycled steel saves: 1.5 tonnes of iron ore, 0.5 tonnes of coal, 70% of the energy, 40% of the water, 75% of CO2 emissions, and 0.97 tonnes of CO2.
3. Recycling of metals is also the major contributor to the UK's achievement of targets under EU Directives such as end-of-life vehicles and packaging.
4. In 2017, the UK exported over 9 million tonnes of recovered ferrous (iron and steel) metal and approximately 800,000 thousand tonnes of non-ferrous metal (such as aluminium and copper).