Susie Burrage OBE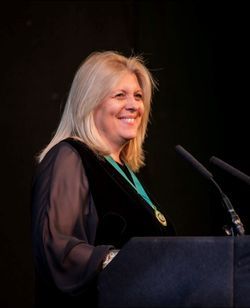 2022 was a busy year for the BMRA, and I am thrilled to announce we have more members now than we have had for many years.
We had a very well attended Golf Day that took place at the Dalmahoy Hotel and Country Club near Edinburgh and a hugely successful Annual Dinner that saw over 530 guests attend the event at the Royal Lancaster in London, including international guests from fellow associations from across the world.

I was delighted to have my compatriots of these fellow Associations present having been a guest of theirs on many occasions. We presented them with a token of appreciation in recognition of the BMRA's close working relationships, many of which have been established over many decades. Thanks to our members for welcoming them to your event.

Thanks also once again to the members who sponsor and support these events. Without you they couldn't happen on the scale that they do.

We have also seen the highest membership numbers for some time, and I would like to take the opportunity to thank you all for your support of the Association, and more importantly, your support of the UK metals recycling sector. Together we can affect change for the industry as well as provide much needed and timely assistance to our members.

Members and their employees will be facing unprecedented challenges both in business and personally. But don't forget, we are on your side, and will continue to be there for our members, providing you with support and guidance across the year.

Key activities will include:
Enhanced lobbying of Government to re-assess its policy towards the metal recycling industry, with a view to securing greater government recognition of the industry's contribution to the circular economy and net zero ambitions.
Continued work to combat yard fires following our cross-industry working group to lobby Government for kerbside collection of WEEE and lithium-ion batteries and to ensure better oversight and management of their disposal at HWRCs.
BMRA has convened a technical working group comprising members of the Association and representatives of the steel sector to identify the UK steel sector's potential requirements for scrap as it moves to decarbonise production and explore technical innovations that might enable the UK scrap sector to meet these requirements.
The sector continues to face many challenges with non-WEEE cables, durable plastics and metal shredder residue all currently under review by the EA. BMRA continues to work on the waste classification and POPS status of these wastes and seeks to ensure a proportionate response from the regulators and long-term solutions to ensuring these wastes can continue to be treated appropriately.
Despite our challenges, there are some really exciting ventures into 2023 that the Association is undertaking. I am particularly looking forward to seeing what the revitalised Young British Metals Recyclers get up to, and how the newly formed Carbon Action committee will work towards assisting the industry to move towards electrification and plan to provide a range of materials to ensure members are in the most informed position possible to reduce their business' carbon emissions.

We will also shortly be launching BMRA's theme for Global Recycling Day on 18 March, 'Limitless Potential', and we want as many of you to get involved with telling us what you want your metal to be in its next life. Look out for our promos coming soon.

This year will be tough, but rest assured, the Secretariat are ready to work on your behalf. Keep checking the bulletins and website for up-to-date news, as well as the members' area of the website where there is a host of exclusive member-only content.

I look forward to seeing many of you at both BMRA hosted and industry events in the coming year.

With the challenging trading conditions we are all currently facing, I would like to thank you all for your continued support of the BMRA and to wish all members, their employees and families, a happy, healthy, and prosperous new year.

Susie Burrage OBE