Six sold in a three month period
Following a surge in demand for mobile recycling plant after a challenging 2020, BMRA service member, Bunting, has seen six Eddy Current Separators with Rare Earth Drum Magnets ordered between January and March 2021.
Steelweld Enviro Products Ltd, a designer and manufacturer of a range of solutions for the waste recycling sector, and CRJ Services, who hires and sells machinery from OEMs for recycling companies, ordered the six machines.
The Eddy Current Separators separate non-ferrous metals from non-metallic material with the Rare Earth Drum Magnets recovering magnetic materials.
In 2017, CRJ identified a need for a mobile metal separation system for sale and rental. CRJ contacted Steelweld, who already manufactured mobile chassis for a number of large OEMs. Steelweld designed the metal separation system with the help of CRJ and Bunting (Drum Magnet and Eddy Current Separator). The resultant mobile metal separation system was named the STROBE and features Bunting's Eddy Current Separator and Rare Earth Drum Magnet.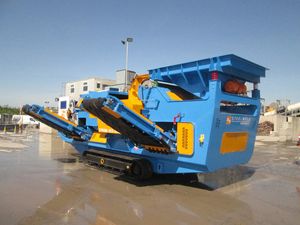 The STROBE ECS features crawler tracks and an on-board diesel generator and hydraulic power pack, allowing for easy site manoeuvrability and transportation on a low loader trailer without permits. The unique low feed height of the mobile separator enables a direct feed from a trommel and, with quick set up times and an easy-to-use push button control panel, the innovative design ensures a trouble free, low maintenance service life.
Bunting's 1.5m wide Eddy Current Separator handles approximately 25 tph, depending on the application. The model High-Intensity Concentric (HIC) ECS, with a magnetic rotor diameter of 300mm, maximises the separation of non-ferrous metals. A high-strength Rare Earth Drum Magnet, mounted prior to the Eddy Current Separators, recovers ferrous metals.
"Although business in the recycling sector was steady throughout the 2020 pandemic, there has been a real surge in orders and enquiries since the start of 2021," explained Adrian Coleman, the General Manager of Bunting-Redditch. "We have a long-standing working relationship with Steelweld and CRJ and their STROBE 1500 ECS mobile metal separator has proved particularly popular with recycling companies."