BMRA service member AMCS (Recy Systems) discusses the benefits of digitalisation to your business.
In a complex industry like metal recycling, inefficiency can creep into business processes, especially when dealing with outdated IT systems, paper processes, and a reluctance to embrace change. Compliance, inventory management, pricing – each aspect of a business hinges on another. The key to combating this is digitalisation.
Digitalisation connects every area of a business – even the supply chain and customers – exchanging data and feeding it back in real time. It automates and streamlines information, providing a deep and accurate view of operations. In a 'Digital Transformation Barometer' study conducted by AMCS, it was found that 60% of the organisations surveyed gave themselves a grade of 'unsatisfactory' for their progress in adopting new technologies. This represents a missed opportunity for UK metal recyclers. In an industry worth £5 billion, it is safe to assume that the companies enjoying the biggest piece of the pie work digitally. Let's look at two digital technologies metal recyclers should consider when moving towards digitalisation.
Mobile technology
With a smartphone or tablet, efficiencies can be created across the yard by using mobile apps for a multitude of functions, including:
Material grading. Not only does an app aid communication when material is received, but it tightens security and speeds up weighing at the scale. You can photograph materials and link them to the commodities on the ticket, improving control and establishing proof of what was purchased. Efficiency is further improved through the app's WIP Sorting function which grades the material within the sorting process.
Accessing customer information. Essentially a handheld CRM system, by accessing information via an app, you can provide your customers with purchase and sales transactions, contracts, prices, shipped material, scale tickets and much more.
Intelligent optimisation technology
Working in an industry that requires a fleet to be out on the road for considerable amounts of time, technology can create further efficiencies through route optimisation, and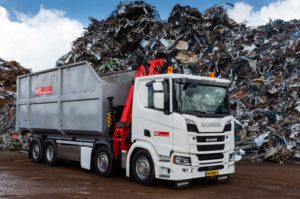 supporting operational and post-operational processes. This has the potential for significant cost savings, while being a relatively low-cost investment.
Lorries equipped with tablets can receive the drivers' run orders, allowing dispatchers to always know where the trucks are, and which customer is being serviced at any given moment. These apps enable drivers to take and share photos at customer locations, collect electronic signatures, and even operate the scales. Taking this approach can produce savings of between 25% – 75% in planning time, while reducing the number of trucks on the road by up to 15%.
To learn more about this technology, watch the webinar:
'Using Technology to Gain an Advantage in Metal Recycling', featuring AMCS's Mark Valdes-Dapena and Maarten van der Linden, IT manager at HKS.
Visit: www.amcsgroup.com/newsroom/webinar-using-technology-to-gain-an-advantage-in-metal-recycling/