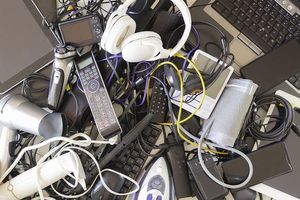 The Government has been urged to do more to support local authorities dealing with the challenge of collecting rising levels of e-waste.
The British Metals Recycling Association (BMRA) say councils need to be encouraged to carry out more kerbside collections.
Their call was made ahead of International E-Waste Day on October 14, and comes in the wake of a recent study suggesting the UK could become the world's largest e-waste contributor next year.
James Kelly, the CEO of the BMRA, said: "With the UK looking set to be the biggest e-waste contributor in the world, the BMRA is using e-waste day to remind people to ensure electrical and electronic items are disposed of properly so their components can be recycled. Not only will this contribute to the amount of metal recycled in the UK, but also help to safeguard workers in waste and recycling who are faced more and more with fires either in their vehicles or at the sites that they work.
"We are continuing to call upon the Government to support local authorities to carry out kerbside collections of this waste, while educating the public as to how to dispose of their unwanted electrical items.
"At the moment the options are to take to a specialist WEEE [Waste Electrical and Electronic Equipment] recycler, a household waste and recycling centre, or retailers that offer take-back schemes. But apathy, as well as lack of access to recycling points, means that many people do not realise that their device can be given a new lease of life."
E-wastes typically contains valuable metals including copper, iron, gold, silver and platinum, but it can also contain toxic metals like lead, mercury, nickel, and cadmium, so if it is carelessly binned, those toxic elements could end up in a landfill site and contaminate soil, sediment, groundwater, and surface water.
By ensuring these items enter the correct recycling stream, members of the public can ensure that the material is handled and recycled correctly.
A second issue is fire safety, as electronic devices - including disposable vapes - often contain lithium-ion batteries which can spontaneously combust if they are damaged. Lithium-ion batteries that find their way into the general waste or incorrect recycling stream have caused nearly 700 fires a year according to research by Material Focus.
Rechargeable lithium-ion batteries are used to supply power to many kinds of devices including mobile/cordless phones, laptops, scooters, e-cigarettes, smoke alarms, toys, power tools and even cars. Many of these end up in refuse lorries and recycling centres where they represent significant fire risks because of the lack of a national roadside pick-up scheme.
The Government has already indicated that disposable vapes, which also contain the same type of battery, could be banned on health and environmental grounds, as it was recently revealed more than five million are thrown away every week in the UK.
The BMRA's call comes as a recent Uswitch study suggests that the UK could become the world's largest e-waste contributor next year. The UK is currently the second largest contributor of e-waste at 23.9kg per capita. It follows the biggest contributor, Norway, which is responsible for 26kg of e-waste per capita each year."
Notes for editors:
For further information, contact [email protected] or [email protected]