Purpose-built facility designed for the customer's ease of use
BMRA was present for the opening of EMR's new depot in Ashford. The £4 million purpose-built site, EMR's 76th in the UK, will employ 8 people. It takes both Ferrous and Non-ferrous material and has been planned to improve the customer experience.
Local dignitaries including Mayor of Ashford, Councillor Jessamy Blanford, were welcomed to the yard by Andrew Brady, CEO of EMR, and given a tour of the new facilities, including the double weighbridge, the depollution area, the Lefort 1000 shear and the purpose built non-ferrous side.
Arron Baseley, who has been with EMR for seven years, is Depot Manager at Ashford. He explained: "This yard is all about ease of use for the customer. The weighbridge, it's intercom, the non-ferrous side, the signage, have all been designed to make the customer's experience here as good as it can be. We recognise the frustration that people feel when waiting to sell their scrap, so hopefully the process will be a lot quicker at this yard. I'm really excited to be managing the site and really happy with how it looks."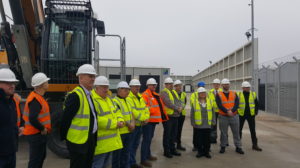 Mayor of Ashford, Councillor Jessamy Blanford, cut the ribbon to officially open the site. She welcomed EMR to Ashford and expressed the excitement about the new site and the opportunities it gives people to recycle more metal. Cllr. Blanford commented: "I am amazed at the scale of the operation and impressed by the fact that we have a leading recycling facility based in the heart of our community. Recycling is so important as our natural resources won't last forever and landfilling is unsustainable. This facility will help both residents and local businesses to recycle their waste metal and end-of-life vehicles.
"We are excited to welcome EMR into Ashford and wish them every success."
You can read the full story on the EMR website.
*Main image courtesy of EMR.