Joins EMR as part of new vehicle recycling efforts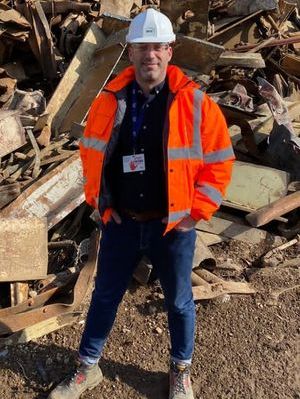 BMRA member EMR is delighted to announce the arrival of Simon Bastin-Mitchell as UK ELV (end-of-life vehicle) Parts and Dismantling General Manager.
The new role will see Simon lead EMR's effort to generate more value from the vehicles received at EMR's UK sites – either via resale to others or dismantling for parts. Extending the life of vehicles and parts in this way saves even more carbon than if they are immediately shredded and recycled to recover metals, plastics and other materials.
EMR uses a range of advanced technologies to recycle 95 percent of each vehicle that it processes. However, many of these vehicles arrive in a condition where they can be repaired and reused. Alternatively, they can be dismantled for their green warranted parts to be resold, empowering motorists to extend the lives of their vehicle, while at the same time reducing the cost of their motoring.
Simon arrives with nearly two decades of experience in the vehicle recycling industry, including 16 years working for a leading UK vehicle recycler on the south coast and working as a consultant with some of the biggest Authorised Treatment Facilities (ATFs) in the UK.
Simon's new role includes building partnerships with specialist ATFs and vehicle manufacturers. Since he has joined, EMR has launched ATF Connect, a platform only available to Vehicle Recyclers Association (VRA) members. ATF Connect allows specialist ATFs to grow their vehicle stock through the purchase of ELVs that can be dismantled or reused rather than recycled.
Simon's recruitment will help achieve EMR's goal of building two-way relationships with every ATF in the UK, helping them to grow their business revenues alongside those of EMR.
Simon Bastin-Mitchell, ELV Parts and Dismantling General Manager, said: "I have been brought on board to extract additional value from every vehicle that comes into an EMR site. We are building a vehicle recycling division that will complement the rest of the market, reselling whole cars and individual parts – there is huge potential for growth.
"EMR has a management structure where its employees are trusted to take responsibility and have the freedom to explore and capitalise on the many opportunities that exist across the UK recycling market. Everybody I have met so far at EMR has been extremely positive about the future of the business and the potential for its vehicle recycling processes."
Roger Morton, Managing Director of Technology and Innovation at EMR said: "I am delighted that Simon has joined our team. Simon brings a wealth of experience in many areas.
"Over the past decade EMR has invested over £350 million in new technologies and partnerships which enable us to recycle 95% of any ELV sold to us. With Simon's appointment we can minimise further waste from ELVs through the recovery of vehicles that are in a condition where they can be reused, recycled, repaired or dismantled for parts."