BMRA President, Susie Burrage OBE, breaks glass ceiling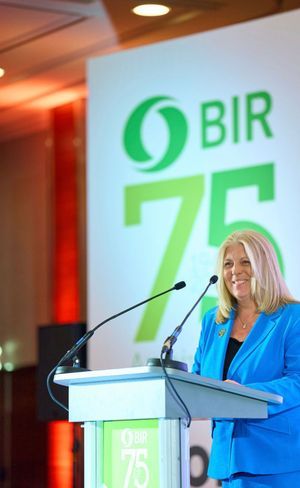 The Bureau of International Recycling's (BIR) World Recycling Convention in Amsterdam (22-24 May 2023) is one for the history books. As well as celebrating BIR's 75 years in the city of its birthplace, the focus at the event was on a modern, connected future which puts international recycling at the heart of the circular and global economy.
Leading this future will be BIR's first-ever female President, Susie Burrage OBE, President of BMRA and MD of Recycled Products Ltd, who took over the role from outgoing President Tom Bird at the organisation's Annual General Assembly on 23 May.
"It is a true honour to accept my Presidency in the birthplace of BIR and at such a record-breaking convention," says Ms Burrage. "My mission is to build on the incredible platform created by Tom Bird, the BIR Executive Committee and the secretariat under the leadership of Arnaud Brunet. My vision is to increase the volume on the environmental impact we make and showcase BIR and recycling as the sustainability-forward, innovation-rich and economically vital industry that it is."
Ms Burrage will also continue in her role as BMRA President.
Susie has an exemplary pedigree. She is the fourth generation of her family in recycling and now runs Recycled Products, which she founded in 2001.
Since 2016, she has held the position of President of the BMRA and has been an active member of the BIR World Council of Recycling Associations. She has also been very active in EuRIC in several roles, including President of the European Metal Trade & Recycling Branch and a term as EuRIC Treasurer (2016-2019).
At BIR's October 2022 Dubai Convention, she was appointed as Chair of the BIR Ambassadors Committee. In addition, Susie is an Ambassador and Board member of the Global Recycling Foundation, Patron for the Bureau of Middle East Recycling as well as board member of BIR's Non-Ferrous Metals Division.
Susie represents recyclers at international level, working with lobbyists and policymakers across a range of issues that affect the industry globally, helping them work towards favourable outcomes with raw materials from recycling becoming available across the globe. She regularly promotes the environmental benefits of recycling in the media and at conferences worldwide, highlighting the importance of recycling in achieving net-zero targets.