The MRGO and MRTM sector-specific apprenticeship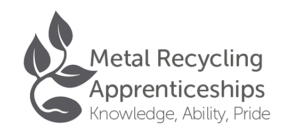 Apprenticeships are an ideal way to future-proof your business – act today!
With an ageing workforce and Brexit having reduced the pool of willing and capable operatives, taking on an apprentice is a simple solution to plugging that gap.

Apprenticeships are a perfect solution for companies looking for cost-effective ways to offer staff career-enhancing training.

It also enables skilled workers looking to retire to pass on their knowledge

There are two metal recycling sector-specific apprenticeships.
MRGO
Employees undertaking the MRGO entry-level apprenticeship will develop a knowledge and appreciation of a wide range of processes, site administration, risk assessment as well as legislation relating to metal recycling. The MRGO will attain the skills to operate industry-specific and generic plant and equipment, such as a forklift truck, shear and cable strippers. Safety will form a key element of the MRGO's role – they will be expected to work safely within a team to ensure materials are processed and handled in the correct and safest way.
As well as undertaking the core learnings, apprentices need to choose from one of five specialist routes:
End-of-Life Vehicles Operative
Material Classification Operative
Material Handler (Specialist Equipment) Operative
Waste Electrical & Electronic Equipment Operative
Weighbridge Operative
MRTM
The Metal Recycling Technical Manager Apprenticeship is set to become the new route for technical competence. It is an enhanced learning route for more experienced individuals.
The broad purpose of the occupation is to manage a commercially viable site in the metal recycling sector, which considers and responds to strict regulations and legislation specific to the sectors operational activity.
An employee in this occupation will be responsible for the management of day to day operations of a site. As a stand alone role, they are held accountable for all activity, broadly split into the following areas:
H&S
Environmental impact
Financials
Human Resources
Operations and logistics
Community relationships
To find out more and to speak to one of the Apprenticeship training providers please contact:
MRGO
Andy Talbot
APT Health and Safety
t: 01782 213428
e: [email protected]
MRGO and MRTM
Gary Pugh
MET Academy
t. 024 7679 6410
m. 07971 613984
e. [email protected]