New Banksman poster delivered to metal recyclers in membership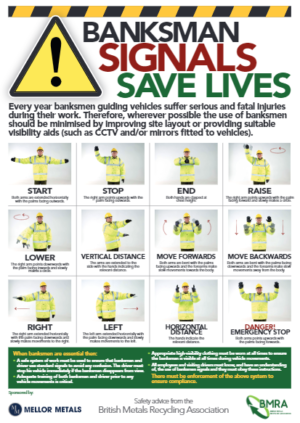 Today, the BMRA releases the fifth section – Workplace – of the updated Health and Safety Manual, helping you keep your site a safe space in which to operate. You can download the section from the link below (login is required):
www.recyclemetals.org/healthandsafety.

This coincides with the release of the next Health and Safety poster designed for member sites, Banksman Signals Save Lives. Each UK metal recycling site in membership will receive a copy of the poster. Additional posters are available to purchase.

Working with experts in the field, BMRA has updated the Manual to ensure it takes account of changes in legislation and wider health and safety practices.

We are very grateful to member Mellor Metals for supporting the production of this poster.

If there are other topics you would like to see covered, you would like to discuss other issues in more detail or are interested in future sponsorship of a poster, please email [email protected].
A note from our sponsors:
Mellor Metals has been built upon a strong family history where it has continued to maintain its fantastic reputation and business principles.

Established in 1981 by Mr Denis Mellor with his son Shane, Mellor Metals is based in Attleborough, Norfolk.

Now run by Shane and ably assisted by family members Hayley and Will, alongside an excellent team of 10 experienced employees.

Mellor Metals has a combined experience of 80+ years to deliver excellent services and knowledge to all its customers.

It accepts and supplies all grades of ferrous and non-ferrous metals for both domestic and export markets. Mellor Metals takes pride in its supply of top-quality feed for steelworks, foundries, processors and exporters alike.

It is 100% compliant with the legislation surrounding the services it offers and is a proud member of the British Metals Recycling Association, whereby Shane is a Vice-President of the Board and Hayley is co-chair of the Young British Metals Recyclers.

www.metalrecyclers.co.uk