Banksman posters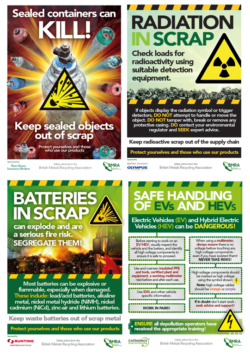 Over the past twelve months, the BMRA has sent Health and Safety posters to every metal recycler (ordinary) member site. The subject for each poster has been identified by the Health and Safety committee as being key hazards within a yard.
The posters are part of the BMRA's health and safety offering and has coincided with the re-launch of the Association's Health and Safety Manual (login required).

So far the posters have included:
• Sealed containers can kill! sponsored by Peter Hoare Insurance Brokers.
• Radiation in scrap sponsored by Olympus.
• Batteries in scrap sponsored by Bunting-Redditch.
• Safe handling of EVs and HEVs sponsored by CarTakeBack.

The next poster will be the Banksman standard signals poster and is available for any BMRA member to sponsor.

Your logo will appear in the bottom left-hand side of the posters with full acknowledgement in BMRA communications.

The cost to exclusively sponsor a poster is £1,500 +VAT.

If you are interested in sponsoring the poster, please contact Kate via email [email protected].