Increased tonnages and need for speed drives purchase
A BMRA member can more efficiently process its increased tonnage following its purchase of a new material handler from BMRA service member Blue Group.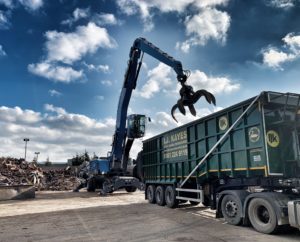 I.J. Kayes Scrap Metal Ltd. is based on a six-acre site in Levenshulme, and handles all types of ferrous and non-ferrous scrap metal, specialising in end-of-life vehicles. It processes scrap metal for the general public, as well as large demolition and remediation companies with their collection and site facilities.
A family business, I.J. Kayes is currently run by Ian Kayes and his two daughters Jessica and Lauren. Ian identified that he needed a materials handler that could feed faster and cope with the increase in volume.
Having looked at other machines on the market, the company selected the Fuchs MHL360F. The requirements were specific, such as a need for high processing power and reach compatibility with the business' new shear baler. The Fuchs MHL 360F offered an 18m reach and award-winning cab.
Ian Kayes said of the purchase: "The site's processing requirements has really increased over the past couple of years. With the new shear baler being twice as big as our last one, we needed something that could not only accommodate the increased height and length, but the new handler needed to feed faster and cope with the increase in volume. The Fuchs 360 ticked all those boxes for us".
The Fuchs MHL 360F Series has a highly efficient 190k engine that ensures minimal emissions and low noise level. With a new operating weight of 48t, it's best suited for heavy loading in both scrap and port applications. Its award-winning cab, designed especially for material handling, offers operators comfort in highly rigorous and challenging conditions. Further improved features also include the windscreen that has a negative slant for a better view and the whole unit raises up to offer panoramic vision of up to 5.85m.
Neil Garside, I. J. Kayes material operator added: "The sheer amount of power generated by the F Series has impressed me the most, and the improvement on the cab. It completely changes your environment for the better, the vision is amazing, and it is so comfy, I don't get out of a shift feeling exhausted. The reach it has is also impressive, improving speed and efficiency across the whole operation because I don't have to move around site".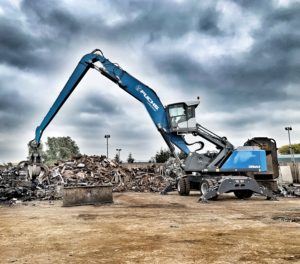 Having a long-standing relationship with Blue Group was another key reason as to why the company chose to purchase the 360 MHL due to its positive experience with the sales and service teams. Neil highlighted: "The service Blue offer is completely different to everyone in the industry. Everything I have asked Rhett O'Neill, (Blue Group Salesman), for, he has given me, even his own personal number, as have the service guys which I haven't had before with other companies. With Blue you know if you have an issue they are going to get it resolved straight away and that's what you need in this industry, because you know time is money."
Rhett O'Neill, Area Sales Manager at Blue Group commented on the strength of the relationship : "It's great working with a company who are growing so fast, and who have been buying machines off Blue for years and we want I.J. Kayes Scrap Metal to continue being a long-term customer. Therefore, when the girls take over the company they know and trust Blue".
Click here to learn more about the Fuchs 360 MHL.