Harvey Hext Trust, based in Bristol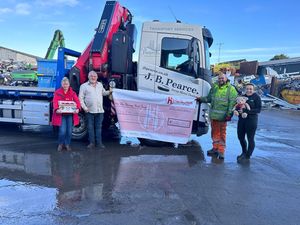 BMRA member, J B Pearce Scrap Metal, has raised £6,000 for the Harvey Hext Trust charity based in Bristol.
The Harvey Hext Trust is a national charity that was originally created to help bereaved Children keep alive their precious, loving memories of their lost brothers and sisters by supplying special bespoke, personalised, durable wooden Memory Boxes and beautiful Memory Bears as a legacy to their lives.
The donations were made through a box at J B Pearce Scrap Metal and was contributed to by customers with the support of employees, and funding from the company.
£6,000 will have supplied 30 bereaved children with a bespoke memory box and memory bears that they will cherish for the rest of their lives.
A Harvey's spokesperson said: "J B Pearce do this simply because they want to support Harvey's legacy and bereaved children but also because they love what the charity does. Without local business support the charity couldn't continue to support the amount of bereaved families that we do, so we really can't thank you all enough."
Mike Pearce of J B Pearce Scrap Metal: JB Pearce are proud to support the Harvey Hext Trust and we will continue with the support of our staff and customers to raise money for this worthy cause."
Hannah Pearce of J B Pearce will be taking part in the London Landmarks Half Marathon on the 2nd April for the charity. If you would like to sponsor Hannah and all the runners visit the Harvey Hext Trust JustGiving page for the event. https://www.justgiving.com/.../harveyhextlondonlandmarks2023