First-of-its-kind project in partnership with Kishorn Port Limited
BMRA member, John Lawrie Metals Ltd, has today announced the successful completion of a first-of-its-kind project in partnership with Kishorn Port Limited (KPL). The project involved the downsizing and recycling of the MV Kaami, a general cargo vessel recovered six miles off the North West coast of Skye after running aground in March.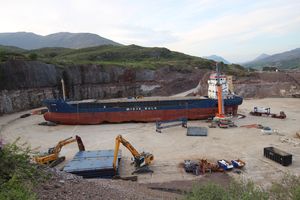 Working to European ship recycling and SEPA regulations, John Lawrie's team from its Evanton base in Easter Ross successfully carried out decommissioning work including the downsizing of the full structure. A total of 1,200te of material has been recovered which has now already been shipped for processing and recycling. Following a review in conjunction with the client, certain elements of the material have been considered for reuse purposes such as the propeller and the wheelhouse, with the wheelhouse already in position at a visitor's viewing gallery overlooking the dry dock.
It is part of John Lawrie's ethos to maximise the opportunity to reuse or recycle materials in order to minimise disposal. Working directly with operators, Tier 1 contractors or other waste management companies, the company's expertise and experience lies in the onshore downsizing, deconstruction, processing, reuse and recycling of a wide range of subsea materials. With a clear focus on minimising waste, pollution and consumption of finite resources, improving sustainability, reducing environmental impacts and cutting carbon emissions, John Lawrie is a keen advocate of the circular economy.
With an aim of zero to landfill, every piece of material the company handled was assessed for reuse or repurpose before being processed for recycling. By processing and recycling the metal from the Kaami, the amount of waste being sent to landfill has been significantly reduced, thereby helping to create a circular economy by keeping waste materials in use for longer. After the material was sorted and segregated and the metal processed, it was shipped direct from site by sea to a steel mill in Europe for smelting ready to be made into new products. Shipping direct from site also saved transportation by road (approximately 48 articulated vehicle loads negated) and therefore helped to cut even more carbon emissions.
Built in 1994, the vessel, owned by Norway's Misje Rederi, was sailing under the flag of Bahamas when it ran aground on 23 March this year. Coincidentally, this exact vessel has previously been used to ship John Lawrie processed scrap metals to Europe. The vessel's length overall (LOA) is 89.8 meters and width 13.19 meters making it a considerable size for downsizing and the first project of its type for John Lawrie.
The project team, consisting of six onsite with additional HSEQ and project support from the company's Aberdeen headquarters, was mobilised on Monday 18 May with the project reaching completion on Tuesday 30 June, just six weeks later. Overall, it was a 13-week turnaround from initial consultation to delivering depolluted and fully recycled material to the steel mill. Working efficiently, safely and collaboratively with all parties enabled this quick completion.
The salvage operation has been supported by numerous local businesses and John Lawrie continued to use the local Highland community for support throughout the duration of the project.
Located on the north west coast of Scotland, Kishorn Port and Dry Dock is the ideal site for the manufacturing, laydown and assembly of renewable energy devices for offshore wind, wave and tidal sectors as well as the oil and gas and decommissioning industry. Highlands and Islands Enterprise (HIE) has invested more than £700,000 in Kishorn in recent years, along with support from the Decommissioning Fund, to add to the significant investment made by KPL and its partners, contributing towards the costs of overhauling the dock gates, modified seals, creating a new access road, and buying and installing dry dock gate anchors and two new moorings for holding the gates in the loch.
The dock was recently fully opened to the sea for the first time in 25 years in order to welcome the MV Kaami after it was successfully floated last month.
The overall size of the dry dock equates to around 160m x 160m providing more than adequate space for cranes, handling equipment, trucks and vehicles to access the site safely. The size and capacity of the dock enables staff and contractors to work at a safe distance, in line with current government guidelines due to the COVID-19 outbreak.
Dave Weston, MD John Lawrie Metals Ltd, commented: "We are delighted to have collaborated with Kishorn Port on this project, the first of many that will no doubt come to the port. After years of planning and numerous discussions with the team at KPL, it is amazing to think that we have finally assisted them in completing this first successful project. The operation ran smoothly with no safety incidents and that's thanks to great communication and teamwork."
Kishorn Port Director, Alasdair Ferguson added: "We are delighted with the completion of this very successful dismantle, reuse and recycle of the MV Kaami in the dry dock at Kishorn. It demonstrates the dry dock is open for business, its capabilities and heralds a new chapter in the dry dock use going forward, which is a significant milestone at the port. Our partners in this project, decommissioning experts John Lawrie have been excellent and truly professional to work with from day one. They have executed and delivered a safe, clean, and tidy job with sound professional awareness with our team at KPL for the undertaking and commitment we have with SEPA for our Waste Management License and the environment. At fairly short notice they responded and have now delivered. We look forward to working on further projects with John Lawrie where the opportunities arise, and bidding in particular on more floating assets that can be accommodated for decommissioning at Kishorn Port & Dry Dock in the future."