Ian from S Norton talks about how he spends his days and working his way up
Name: Ian Williams
Job title: Maintenance Team Leader at S Norton
Time spent in recycling: Started with S Norton in 2002
---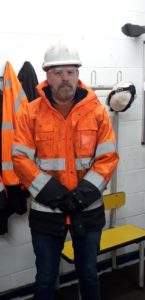 What does your job involve?
My job involves making sure all plant is running and making sure the team are working effectively. I need to ensure that all contractors are working in a safe and correct manner, and have the correct documents. I also keep service schedules up-to-date and need to be aware of any health safety issues. I look after the apprentices and make sure they are getting the correct training between static and mobile plant.
I liaise with the production department to see what their needs are or tell them my needs and make sure all jobs are tracked on the computer manager maintenance system (CMMS). I work with the accounts department to make sure invoice costings and any contractor hours are correct, as well as ordering parts and getting quotes.
What is the hardest part of your job?
At the moment, labour, and machine availability from production.
What three things help you to do your job better?
The team, my phone, and the trust my managers have in me.
What are you most proud of in your career?
Being in the position I'm in now and working my way up the ladder.
What is the best advice you have ever received?
No question is a stupid question and never give up.
Quick fire round:
Out on the town or a night in front of the TV? Night out on the town (not that I have many!)
Coffee or tea? Coffee.
Winter or Summer? Summer.
Marmite – Love/Hate? HATE!!!!
Invisibility or Flying? Invisibility.