She believes you need passion and enthusiasm to drive through change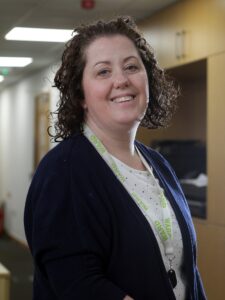 Name: Joanne Upton
Job title: Environmental Officer, Ward
Time spent in metal recycling: 2 years
Environmental Officer Joanne Upton shares what it's like to work at metal recycling and waste management specialist, Ward and why it's nice to be nice.
---
What does your job involve?
I work across all Ward sites to ensure compliance with our environmental permits and environmental legislation. I spend my days delivering training, attending meetings, walking around our sites, and writing (seemingly endless) Management Plans for the Environment Agency. I also develop our energy and carbon plans.
What is the hardest part of your job?
Keeping abreast of the tsunami of environment legislation and Environment Agency requirements. Sometimes I feel overwhelmed by the challenges the sector will have to overcome within my working life for example, Net-Zero and zero waste to landfill.
However, at Ward we are working hard to meet and exceed the targets for carbon reduction with The Ward Way, our sustainability road map to 2030. Plus, we have recently signed the Pledge to Net Zero and been accepted as part of the UN's Race to Zero for our evidence-based data on tackling climate change.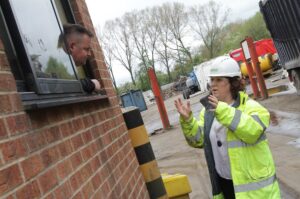 What three things help you to do your job better?
Passion – I love my job and I am passionate about the sector I work in. I am the sort of person that reads the Scrapbook Bulletin for bedtime reading!! But I honestly believe that to be an environmental professional you need passion and enthusiasm to drive through change.
Great team – I work hard with some great people. Being able to openly discuss issues and problems that need resolving and bouncing ideas off each other.
Humour - there are days when I get home and my belly hurts from laughing so much. Whether it's out on the yard or back in the office, the good humour of my colleagues means that I enjoy my job and I'm motivated.
What are you most proud of in your career?
It's a bit cheesy but I took seven years out of work to raise my family. When I decided that the time was right to return to work there was a lot of self-doubt. When I was offered the position at Ward I was surprised and thrilled. Two years on and I have not looked back (working full-time is so much easier than being a stay-at-home mum to three children). Luckily, I have a fantastic boss and being a business based on family values, Ward has supported me every step of the way.
What is the best advice you have ever received?
Treat everyone how you want to be treated. This is especially important in my kind of role where I work with all sorts of people from different backgrounds. I have held this belief my whole career, whether I am talking to people out on the yard or in a compliance meeting. If I treat everyone with respect, they will want to work with me….not run away when they see me walking round the yard.
Quick fire round:
Sausages or bacon?

Bacon

Football or rugby?

Rugby

Cats or dogs?

Dogs

Town or country?

In the middle, to get the best of both worlds.

Apple or Android?

Android

Beer or wine?

Wine