Best piece of advice? "Don't lie, don't steal, work hard and you won't go far wrong."
Michael Jackson joined metal recycling and waste management specialist, Ward, in May 1987 on a Youth Training Scheme when he was just 15 years of age. He moved from Woodville to Ilkeston as Yard Manager in 2002 when Ward expanded into a new site and then became Chesterfield Yard Manager in 2016 following its £5 million refurbishment.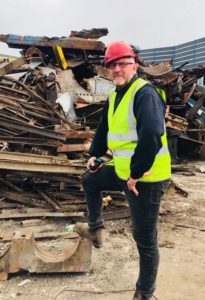 He tells us about his Life on the Yard.
Name: Michael Jackson
Job title: Senior Site Manager
Time spent in metal recycling: 32 years
I'm now a Senior Site Manager at Ward, a business I joined when I was just 15 years old. I have three children, Lauren 28, Casey 22 and Owen 14. I'm also a proud grandad of two girls aged 4 and 6. I have been married for 10 years to Melanie, who also works for Ward.
In my spare time I manage a very successful football team Linton FC with Melanie which we are very proud of. It takes up a lot of our time. We also travel all over the Midlands, with Owen who plays in the Midlands Junior Premier League.
I like to go to the pub for a pint or two and sit with some of the older chaps listening to their stories when they worked down the pit and their days of playing football - PRICELESS!!
What does your job involve?
My main job is to run the site at Chesterfield, but I also oversee outside work when needed. I test all machine 360 drivers to ensure that they are safe and competent to operate the machines we have on site.
What is the hardest part of your job?
I believe when the job starts and gets hard it is because someone in the team has stopped pulling their weight. The hardest part then is to find the weak link and to put it right.
What three things help you to do your job better?
1. Good working machines that don't breakdown
2. Good communication between managers at all levels
3. Most of all, the lads and girls that make up our team
What are you most proud of in your career?
I'm most proud of myself for working hard and reaching the position I am at now.
What is the best advice you have ever received?
It was from my mum, "don't lie, don't steal, work hard and you won't go far wrong." This is the advice I have given to my kids.
What one thing would we never guess about you?
Most of the above (only joking!). I love football and I have plans to develop a young academy for kids which we are in the early stages of.
Quick fire round:
Sausages or bacon? Bacon
Football or rugby? Football
Cats or dogs? Dogs
Town or country? Country
Apple or Android? Apple
Beer or wine? Beer