Jansen Recycling Group
Job title: Metal Trader
Time spent in recycling: 18 years
---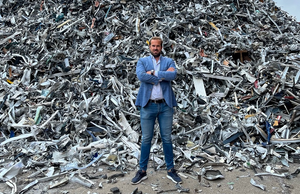 What does your job involve?
I am responsible for trading ferrous and non-ferrous metals at Jansen Recycling Group (JRG). I have worked at the Jansen Recycling Group
for six years. My responsibilities are the Benelux and UK market for purchasing and sales.
What is the hardest part of your job?
My job can be challenging at times. An example of such a situation is when prices are low and it is difficult to trade metals. But we always find a solutions to make both ends meet.
What three things help you to do your job better?
We have a great backoffice team, the logistics team and the people on our yards. Without them we'd be nowhere. Thanks to the efforts of these teams, we can pay our customers quickly and unburden them as much as possible in every area.
What are you most proud of in your career?
Lots of things to be proud of! I am proud where I stand today with Jansen and building on our future.
It's great that JRG has given me the opportunity to grow.
What are the best and worst things about the metals recycling sector?
Best thing is its diversity and how we are such a big part of the worlds infrastructure. At JRG we operate worldwide. What I also like, in addition to trading metals, is that we get major dismantling projects for our yard in Vlaardingen. In this way we create a better world together.
I can't see anything being the worst, because even in challenging or difficult times there are opportunities.
What is the best advice you can give.
Make sure you love what you do, and you'll be good at it.
Quick fire round:
Out on the town or a night in front of the TV? Out on the town. I love a beer with my mates
Coffee or tea? Coffee
Winter or Summer? Summer
Marmite – Love/Hate? Marmite, hate it,
Invisibility or Flying? Invisibility