Young metals recyclers visits AMRC for training and tour
The properties of metals were high on the agenda on Monday 4 February as the Young British Metals Recyclers (YBMR) met up at the Advanced Manufacturing Research Centre (AMRC) in Rotherham. Part of the University of Sheffield, the site is home to a combination of educational, research and commercial ventures with the purpose of supporting British business.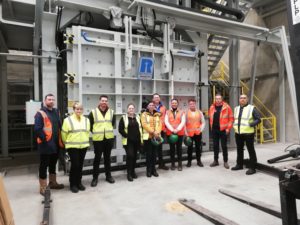 Hosted by Graham Small, CPD Training Manager at the AMRC Training Centre, the group spent the morning learning about the Fundamentals of Metallurgy. Whereas there were elements very familiar to the group, they were able to learn more about the structures that make up different metals, the effects of temperature on changing these structures and how metals are tested for the use in different applications. It also touched on the casting process which was a good precursor for the visit to Castings Technology International (CTI).
A joint commercial and research venture, CTI services the aerospace and other high-value manufacturing sectors. It is the largest facility in Europe capable of producing some of the biggest Titanium aerospace castings in the world. The tour included a look at the use of 3D printing, a demonstration of a casting mould being made and a look at the largest titanium furnace in the world.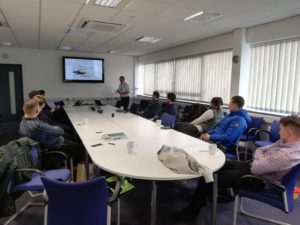 A tour of Nuclear AMRC followed where the group learned more about some of the work that they do to support both the nuclear industry and the companies who would like to enter that market.
Finally, there was a visit to the AMRC Training Centre. It is regarded as the 'Centre of Excellence' for apprenticeship and CPD delivery within the Yorkshire & Humber region. There was a tour of the facilities where many well-known companies' names, who send apprentices to the centre, adorn the wall, including BMRA member ELG Haniel. Following a rigorous selection process, the apprentices are put through their paces in industrial type conditions where they learn electronics and welding, among other specialisms, that prepare them for the world of work
Lucy Tee, Director at Phoenix County Metals Ltd. who attended her first YBMR event said: "The trip to AMRC was really interesting. The training showed metals in the wider context, such as its properties and its uses, a good insight if you were new to the industry. We also got to look around facilities like Castings Technology International, that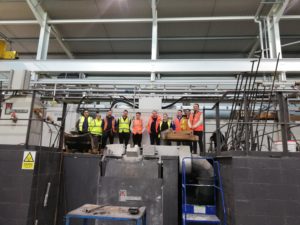 otherwise I wouldn't get the opportunity to. It highlighted things that I wouldn't be aware of in the day-to-day running of a metals recycling company, but added to the picture of what we do. It was a great day out and I will look forward to the next one!"
There are plans for similar tours in the near future. If you are interested in joining the YBMR please email Kate.