Health and safety poster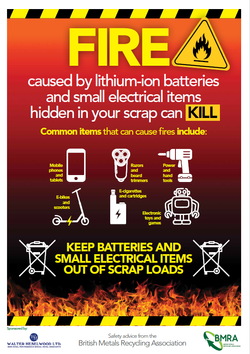 The next in the British Metals Recycling Association (BMRA)'s series of health and safety posters, designed to help you keep your site a safe space in which to operate, has been released.

This poster stresses the risks posed by lithium-ion batteries, and electrical items containing them, to members of the public visiting your yards.

Many thanks to member Walter Heselwood Limited for supporting the production of this poster.

The full range of posters, which can be viewed at www.recyclemetals.org/handsposters, are available to purchase for £10+VAT inc. postage each.

If there are other topics you would like to see covered, or you would like to discuss other issues in more detail, please do get in touch: [email protected].