Batteries in Scrap poster delivered to metal recyclers in membership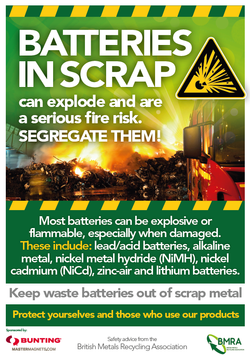 Today the BMRA releases the third section – Work Equipment – of the updated Health and Safety Manual, helping BMRA members keep their sites a safe space in which to operate. BMRA members can download the section from www.recyclemetals.org/healthandsafety.

This coincides with the release of the next Health and Safety poster designed for member sites, Batteries in Scrap. Each UK metal recycling site in membership will receive a copy of the poster. Additional posters are available to purchase.

Working with experts in the field, BMRA has updated the Manual to ensure it takes account of changes in legislation and wider health and safety practices.

We are very grateful to service member Bunting for supporting the production of this poster.

If there are other topics you would like to see covered, or you would like to discuss other issues in more detail, please do get in touch, [email protected].
A note from our sponsors:
Any Metal Separation Equipment, Contact Bunting
Developments in separation technology are crucial as companies strive towards recovering 100% of metals with increasingly high purity levels. A good example is Bunting's latest product, the ElectroStatic Separator, which enables the recovery of fine metals such as copper wire previously lost to waste. In combination with high-intensity Magnetic Separators, Stainless-Steel Separators, and Eddy Current Separators, metal recycling companies recover all metals. Many projects start with controlled tests undertaken at Bunting's Customer Experience Centre in Redditch, determining the potential level of separation and purity. Find out what is possible with Bunting. Call us on 01527 65858.

www.mastermagnets.com