A look ahead to 2021
The New Year is traditionally, a time for new hopes, aspirations, goals, and good wishes and in 2021 these sentiments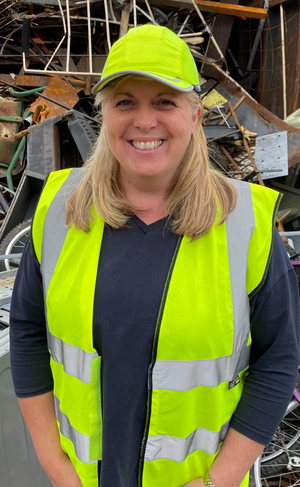 seem more important than ever. 2020, was a year like no other, and one I hope we never see the like of again. We have all faced unforeseen challenges both professionally and personally and with these, a realisation that we need support and that the importance of being part of a community has become more apparent than ever.
As we all grappled with the challenges that 2020 threw at us, I hope, like myself, you found the BMRA's support invaluable. Whether you continued operating as normal or reduced your operations, having access to up-to-date information in a timely manner was key. The Secretariat responded quickly and released, tailored Government briefings on COVID-19, the same day or next.
Once the Government published a list of the key workers, the Secretariat worked with Defra to ensure metal recyclers were included. Despite being a small team, they were able to continue to support BMRA members, often on a one-to-one basis, to help them navigate the challenges faced by the whole country.
Throughout the pandemic, the BMRA has also continued to drive forward on a wide range of other issues that impact our businesses, in particular waste classification and metal crime. 2021 will see our focus remain on issues threatening the future of the industry; none more so than waste classification, which is proving a significant challenge. The sector will continue to face many challenges with non-WEEE cables, ELV plastics and metal shredder residue all currently under review by the EA. The BMRA will continue to work on the waste classification and POPS status of these wastes, seeking to ensure a proportionate response from the regulators and identifying long-term solutions to ensure these wastes can continue to be treated appropriately.
As we develop a new trading relationship with the EU, there has never been a more important time to be a member of a trade body and for the industry to pull together. To recognise your support and the challenges of the past year, we have not raised the cost of membership for 2021. With all the uncertainty and potential for change ahead, the bigger the membership, the more powerful our voice is so I thank you for renewing. We will continue our efforts to recruit new members, and we appreciate any support existing members can give towards this. Please note there is an incentive scheme where you can get 10% off the following year's subscription if you recommend the most members.
Throughout 2020, the Association continued to produce
Scrapbook
and hold the popular Photo Competition, as well as release the updated Health and Safety manual and accompanying posters. (The manual and back copies of
Scrapbook
are available via the members' area of the website).
The virtual Annual Dinner celebration was very well received and raised over £3,000 for Dreamdrops, our charity for 2020. Thank you to those that contributed, donated raffle prizes, bought tickets and to all of you who took time to watch the virtual event. It was not the traditional dinner, but it did give us a greater opportunity to showcase the breadth of works undertaken by the Association and hopefully will inspire some of you to join a committee or subgroup. The BMRA Secretariat really do need our input and support as they continue to represent us and fight battles on our behalf.
I hope that the Annual Dinner in London, will resume in 2021 and with the rollout of the vaccine we will once again have opportunities to meet up at industry events such as Let's Recycle and MRE, the latter postponed from 2020.
Excitingly, we now have two sector-specific apprenticeships: The Level 2 Metals Recycling General Operative and the Level 5 Metals Recycling Technical Manager. I urge all members to look into these exciting apprenticeship opportunities. As the Managing Director of an SME, who has employed and mentored two level 2 apprentices, I can endorse this course. With nearly £9,000 currently available for FREE training from the Government levy, please use it as if we don't, we will lose it.
Finally, as President of this resilient 102-year-old British Metal Recycling Association, I would to wish you all a healthy and prosperous 2021, thank you sincerely for your continued support but most importantly please 'Keep Recycling!'
Susie Burrage
President of the BMRA
MD of Recycled Products Ltd