BMRA is sad to announce the death of former President of the Scottish Metals Association.
BMRA is sad to announce the death of Duncan Ferguson, former President of the Scottish Metals Association.

Duncan was born in 1939 to Duncan and May Ferguson; he was a younger brother to Elspeth. Aged 15 he started work at a consultant engineering firm in Glasgow but left midway through his five-year apprenticeship to join Andrew McCracken Building Contractors at Larkhall.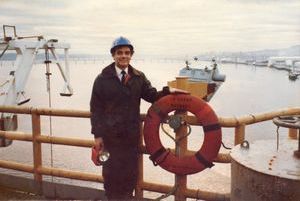 Andrew McCracken's daughter, Lorraine, quickly caught his eye and after one date, he told friends he'd met "the woman I'm going to marry". They married in 1964, and four children arrived across 10 years: Julie, Lisa, Jamie and Sally.
Having overseen the building of the Daer pipeline in Lanarkshire, in 1962 Duncan and brother-in-law Sandy decided to set up Fermac, a scrap business located in Mossend. Throughout the years, many happenstances became legend.

This includes the time when, having won a Royal Navy contract to dismantle metal buoys and wire rope in Aultbea, near Ullapool, Duncan sent up a team of men along with their wages and dig money. Unfortunately, the team spent the money buying everyone drinks and, when this wasn't reciprocated, smashed up the bar and spent the weekend in Porterfield Prison in Inverness.

Or, when Duncan narrowly averted disaster when an oil rig he had bought broke loose from its moorings and drifted with purpose towards the Tay Bridge. Thankfully the giant structure was brought to a halt before a good chunk of the A92 was taken out.
Duncan served as President of the Scottish Metals Association between 1978-79 and, in the 80s, Dutch company Jewo Metals became Fermac's major shareholder.

Jewo funded the purchase of the fire-damaged oil rig Ocean Odyssey, which they then spent two years dismantling in Dundee. Duncan was always proud that the platform they sold on still serves as a self-propelled semi-submersible mobile launch platform for spacecraft.

Duncan died on 23 October surrounded by family at his home. He is survived by wife Lorraine, children Julie, Lisa, Jamie, Sally and his grandchildren.