Founder of BMRA member Smiths of Bloxham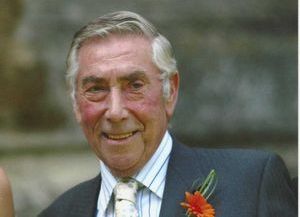 The BMRA is saddened to announce the death of Peter Smith, founder of BMRA member Smiths of Bloxham.
Peter, who died aged 77, was husband of the late Kathy (who died in January 2017) and the father of eight sons, Peter, Tom, John, William, Andrew, Matthew, Benjamin and Joey.

His funeral took place on Friday the 29th April at Bloxham Church.

The Board, Secretariat and Committees of the BMRA send thoughts and condolences to the Smith Family.
Peter Smith Eulogy:

Peter Smith was born at home to parent's Thomas & Isabel Smith on the 15th of April 1944 at Newlands Farm on the Milton Road outside Bloxham. Peter was one of ten children.

Newlands Farm is the original name of the house and land of which is now Smiths of Bloxhams' main site.

From an early age Peter helped his siblings and parents to build the family business using any means possible.

This included growing and selling cabbages and other things in the fields Peter's father bought as he expanded the business and helping sort the scrap metal that was bought and sold by the family.

On a Thursday, Thomas Smith Senior would take Peter and his brother Thomas to Banbury Cattle Market with him as there was more educational work buying and selling in the market where all the local farmer's congregated. There was business to be done.

Peter's father also started the Newlands Caravan Site on Milton Road, which was originally opened for the visiting family members of Thomas Smith who had travelled from the north of England. The family closed the site in 2017.

Peter and his brother Thomas continued their weekly cattle market education and this laid the foundation for their future success in the livestock business. This training put them in good stead as cattle and horse dealers.

In 1969 the good livestock education was proved when Thomas Smith Senior along with sons Peter and Thomas won the prize for the top cattle at Banbury's Midland Marts cattle market with the trophy presented by the Boxing Champion Henry Cooper.

Peter also farmed sheep for a while and was helped by his friend Charlie Haynes from Woodford Halse who had previously been employed as a shepherd in previous years by Peter's father Thomas.

Peter's elder sons can clearly remember working with their father and Charlie sorting sheep and helping run them through the sheep dip.

Over the years as well as family Peter employed more stock men John Wilson and Andrew Bishop and they went on to enjoy multiple wins at shows across the country. Buyers came in person from as far away as India to purchase cattle from his prized herd and the breeding DNA materials from the herd was exported all around the world.

Peter had eight sons and as all the boys grew they were taken with their father to both the farm and scrap yard to learn the trades he had learnt as a boy.

Peter worked seven days a week and only took Christmas day off as a break with his family.

Peter's presence in the scrap dealers world was as legendary as in the cattle world, he would spend many hours out late securing contracts for the business.

Peter's boys also went with their father to work on removal and secure deconstruction jobs for official sources and many MOD facilities from where truckloads of items such as spent rocket casings and cars used for grenade testing were collected.

Peter negotiated many contracts with the US military dating back nearly 50 years. His children remember some of the amazing American cars he would drive home after doing deals. Work was undertaken at various bases where he dismantled the large antennae aerial radar systems. Peter took down WW2 aircraft hangars at local bases re-erecting them on his farm where they are still used today as cattle sheds.

Peter also worked hard on contracts with our own great military, the elder sons remembering mountains of the metal helmets from the first and second world wars and gas masks and old uniforms which they took great joy in of dressing up and playing in much to the amusement of their father.

Peter made the papers again when the Vulcan bomber planes that flew in the Falklands War were dismantled and he and one of his sons were pictured sat astride one of the enormous engines. That was one of many aircraft including the remains of an F1-11 fighter jet that they had seen crashed in the north sea on the national news.

Peter once came home to see the front cockpit end of a large aeroplane in his back garden where some of his boys had transported it to use as den.

Old military tanks were also brought in along with 20 ton solid steel blocks that were thermal lanced on site.

The nuclear facilities in the UK were another source of jobs and deliveries of 20ft high giant steel & lead cased "plugs" used in case of a nuclear plant melt down. Everyone at Smiths remembers them arriving and all the workers too scared to go near them in case of radiation. Peter confidently walked past the men saying "Out of the way what's the matter with you", he picked up a gas cutting torch and started taking the giant plugs apart as they were completely safe in reality.

In his home town Peter was also constantly doing deals and ensuring good working relationships with all the major businesses based there Kraft Foods, Fine Lady, Demag, to name just a few.

If there was scrap of any amount large or small Peter and his firm would be there to get it. He had a wide range of international customers who bought to export from him, ranging from Africa, Afghanistan, China, Korea, Poland and many other countries across the globe.

He also made sure he was the main contact for most of the F1 race and the rally teams and his sons can remember watching big smashes on the TV then seeing the cars appear in their fathers yard.

When the XJ220 Jaguar supercar was built at the factory in Bloxham, Peter was on the scene again covering all scrap removal and destruction and even took some of his sons down for a ride in the coveted cars.

For the last 35 years Peter has allowed The Banbury Steam Society to operate its rally on some of his vast farmland which has drawn in crowds of thousands from across the country.

Many people can remember Peter there in the past ringing the bell on the hammer striker many times in a row ,proof of his amazing strength and fitness from years of hard work as when he was a young man they had to chop up the scrap cars with axes and load them on the back of their Commer trucks by hand before they had bought a crane.

Peters generosity was unrivalled and he was always the first to help within his local community for anything that was needed, he was a silent supporter of many charities including for breast cancer which was close to his heart as his dear wife suffered from it. He also supported the church and instructed his sons to also do the same as they grew up. He would freely let the riding clubs hold their events on his land as he enjoyed seeing the horses on a drive round.

In 2011 Peter was diagnosed with Parkinson's disease which was a shock to him and the family, but he continued with his daily work involved with the cattle and the scrapyard not being deterred.

In November 2011, Peter's business partner and brother Thomas passed away and then his other business partner and sister Pauline passed away in December 2015.

Peter continued to run the business along with his sons helping him.

Peter and his family were left devastated in 2017 when his dear wife lost her battle with cancer but he continued on.

In late 2021 Peter stopped attending the office to protect himself from the virus still plaguing the country but he would still be driven there and around his yard to survey things from the safety of his vehicle and lend words of advice on business to his sons.

Sadly on 13th of April 2022 just before his 78th birthday Peter's health took a sudden and drastic turn due to an unforeseen diabetes complication.

Despite valiant efforts by everyone there Peter sadly passed away with family with him on the morning of Thursday the 14th of April.

And so ended the life of a generous kind loving father and husband, a legend of a gentleman and the end of an era that we can now only treasure in our memories.

Peter leaves behind his dear sister Christine his eight sons ,15 grandchildren, two great grandchildren and many nieces and nephews.