Scrapped safe reveals £20,000 horde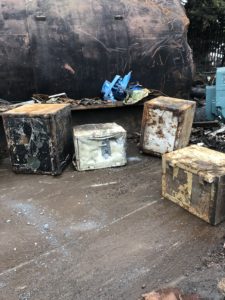 BMRA member Sackers, made a treasure of a discovery when four locked safes came into its Great Blakenham site.
It's not uncommon to have safes come in for scrapping, however it is unusual for them to be filled with anything. As the safes got snipped open with a mobile shear, staff discovered about £20,000 in one of them. The others were empty. The £20,000 was made up of some legal tender and some old tender and was clearly in there for many years as it was dusty and wet from being in the rain.
Yard Manager Kevin Harrington said: "We often get safes in and we tend to store them up as they are quite difficult to deal with. We had about 8 in at the time when we started snipping them. We'd snipped up 3 before we found the money. It had been in there a long while, the money was very dusty and we didn't count it all but we guestimate that there was £20,000 in there but not all legal tender anymore which shows how long it had been left for".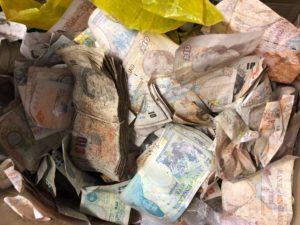 David Dodds, MD of Sackers, appeared on BBC Radio Suffolk and told host Mark Murphy there was 'wads and wads' and it was similar to a time when a church sent in a safe full of silver cups and saucers that were later retrieved by the Vicar. You can hear him here at 1.38:20.
Sackers gave the money to the police who have been unable to track and identify the owner and no records are documented. The money is going to be donated to charity.
Photos supplied by Kevin Harrington (safes) and Nigel Slinn (cash).
We love hearing about exciting finds on the yard. Get in touch with kate@recyclemetals.org with your stories.