Workforce expands by 10% with new recruitment drive
BMRA member, Sackers, has seen strong growth in the last quarter of 17% increase in containers full of processed metal being shipped through Felixstowe. The business has robust plans to grow the exports and processing even more over the next year with new investment plans.
The business structure therefore supports the need to recruit and grow its own talent through apprenticeships by recruiting six, adding 10% of perosnnel to its workforce. This recuitment will be in all areas of the business from finance, weighbridge, procurement, engineering and yard roles.
Commenting on the recruitment, David Dodds said: "We are just all working at 100% and we need to start planning for the future growth of the business and succession planning. We have had some real success stories with some of our staff starting at a junior level and working their way up through the business and have become part of the family. We've just had an excellent apprentice, Oscar, qualify into our shipping department and he has proven to be a real asset to the business and I see him going far at Sackers. Even one of our managers started on the picking line in 2006 and is now part of the senior leadership team. If the person has talent and the right attitude, they will do well here, and we will invest in them. The successful candidates should see this as a career and not something that stops at the end of the apprenticeship."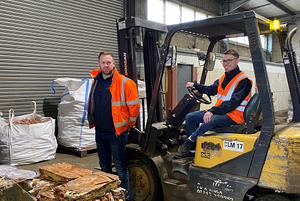 Sackers have always invested in staff and have some success stories to prove it. Kris Rose, a Senior Manager, said: "I joined in 2006 as a picker. I was grateful to be given the opportunity even if it wasn't the most glamourous role when you are a teenager. After about 3 months they moved me in to the metal shed where I learnt so much about different metals. Then in 2007, I was proudly offered a role in the office on the weighbridge meeting and greeting customers and buying their metal based on daily prices. Since then, I became Weighbridge Manager and I am now on the Senior Leadership team as Commercial manager. If I hadn't taken that opportunity, I wouldn't be where I am now. They have invested training and my future and I love working at Sackers. I would bleed Sackers now."
Overseeing the Apprenticeship courses and recruitment, HR & Comms Manager Helen Crapnell added: "The pandemic has been a lost opportunity for some younger adults so we want to support them in giving them an opportunity to get in to work and have a career. We have had a good experience with apprenticeships so want to continue with them but on a larger scale. There are openings in all areas of the business to suit most people. The volume of work will go up and if we nurture the right talent they will develop with our growth plans".
As well as each apprentice having their manager overseeing their apprenticeship, Sackers have nominated "buddies" for each new role as day-to-day support and there is a clear career path for each role should the candidate be successful.
Sackers is working with West Suffolk College for most of the office roles and the British Metals Recycling Association for the metal specific roles. Both have come highly recommended and with strong experience in good delivery of apprenticeships.
Executive Director for Business Development at West Suffolk College, Phil Stittle, said, "It's fantastic to see Sackers getting involved with Apprenticeships and creating new employment opportunities in their company. We are delighted to have been given this opportunity to support them. It's the first time we have worked together and we can't wait to create a long term strategy that will help their business thrive and their new recruits grow. I think the fact that they are looking to increase their workforce by 10pc is an incredibly positive sign that businesses in this region are beginning to bounce back - and that has to be a big boost and a positive sign for the region."