Bronze award given in recognition of employment opportunities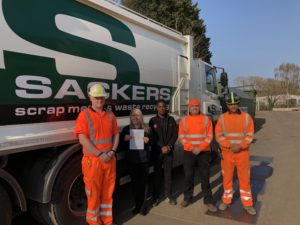 BMRA member Sackers has signed an Armed Forces Covenant at Wattisham. The covenant allows the Great Blakenham based metals recycler to gain a bronze award, acknowledging the support the business is giving to the armed forces. This includes existing or prospective employees who are members of the community.
Sackers currently has seven service employees, 5 of which are ex service personnel, one is a reserve and one is a spouse, making up nearly 10% of its workforce.
The covenant was signed off by Adrian Dodds, Joint MD of Sackers and signed by Lt Col Marcus Brown on behalf of the Ministry of Defence.
Sackers is now aiming for the Silver Award in which they will demonstrate actions that go above and beyond. This includes ensuring service personnel/armed forces community are not unfairly disadvantaged as part of their recruiting and selection processes.
Adrian said: "We pleased to get the bronze award, however we are aiming to achieve the silver award. It means a lot to us to support service personnel and consciously continue to do so. They are usually highly-skilled and can bring some great attributes to any business. Wattisham is Suffolk based and we are a Suffolk business which is growing so why not look at skilled service personnel looking to change to civilian life? Even the reservist gets £8k worth of training from the military while they are in employment so I can't see why any business wouldn't want to explore this opportunity."