Bernie Porter of BH Porter & Sons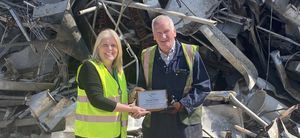 BMRA President Susie Burrage, who presented Bernie with his plaque said on Twitter: "Delighted to present the first ever BMRA Service to British Metals Recycling Award to Bernie Porter of BH Porter & Sons in Wisbech. Bernie has been working in the industry for over 50 years, since he was 15. What a character!"
Bernie was nominated by his grandsons, Ryan and Owen Simmons. They wrote a fitting nomination for Bernie, which you can read below.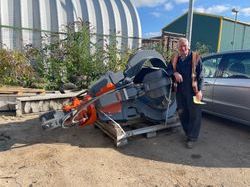 "Bernie's dad started the company at Eastern Road, East Ham in London in 1955. As a child Bernie used to help his dad at nights and over weekends cleaning up copper. At the age of 15 he officially left school and joined the industry full-time and is still working six days a week at the age of 73.
Working alongside his dad he started winning some big contracts dismantling old machinery in large factories such as the Trevor Sweet Factory in London. They then supplied the old Ford Car Foundry in Dagenham, becoming highly respected in the area.
Bernie took over the family business in 1980. After the site was compulsory purchased by the council in 1983, he took a huge risk and moved his family and business to Wisbech. He moved all the equipment on a lorry he loaded himself such as cranes, weighbridge, and even dismantling, transporting and re-assembling his Copex shear all by himself and a little help from two future employees.
Covering 100's of miles just to get everything moved back and forth. Starting off again with a thin strip of land, expanding to the several acres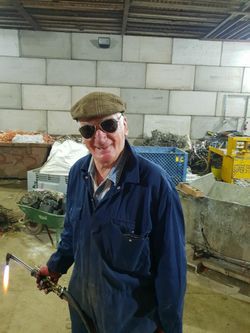 he has now. Bernie has worked throughout all the high and the lows, never giving up and always proving himself as one of the best.
Even at the age of 73, he's still showing his strength and knowledge when he's in the yard or out onsite working away, mucking in with everyone and still leaving work every day covered in dirt and grease with a smile on his face. We are now a fourth-generation company.
With Bernie having taught us family and our staff everything we know; we believe Bernie is one of the last of his generation still in the industry. Able to communicate to anyone whether they're a director or a member of the general public, making everyone laugh and smile. We are not a huge company, but we still have a large customer base and a lot of a loyal customers simply because Bernie has taught us his morals and traditions.
Because of this we are successful and where we are today. If you spoke to Bernie, you could really write a book with stories.
Bernie said he would retire at 60, this then changed to 65, then 70, and keeps changing every year, simply because he loves working in the industry!
Nominate a person
The award recognises those with longstanding contributions to the metals recycling industry.
Every two months, members can nominate someone to put forward for the award based on the following criteria:
The nominee should have been in the industry for at least 25 years
The nominee may have worked in their own firm/or for other firms
The award is a recognition of longevity and experience.
People nominating will be asked to include no fewer than 200 words as to why this person should be a Service to British Metals Recycling recipient.
If people have previously been nominated for a Lifetime Achievement Award, they can be nominated for this award.
Please note this is an ongoing award with the aim to feature someone every two months both on the BMRA website, Scrapbook and social media.
For forms and any questions, please contact [email protected].