Catalytic converter thefts are big news but what are BMRA members doing to combat the issue?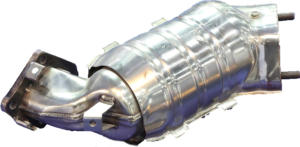 Over the past six months, thefts of catalytic converters from vehicles has risen dramatically. The thieves have no compunction at stealing the high-value components in broad daylight. In London alone, the number of thefts to date is already some 60% higher than the whole of 2018.
The rise in thefts has been driven by a price spurt in the value of the platinum group metals (PGMs) found in catalytic converters. Since last October, Rhodium has risen from around £2,000 a troy ounce (TO) to around £4,200/TO and Palladium from £800/TO to around £1,400. A troy ounce is around 31 grams and, given that the average catalytic converter has between 2-7grams of PGMs, the attraction is clear.
The most targeted vehicles to date have seemingly been hybrids such as the Toyota Prius and Honda Jazz, mostly because, being hybrids, the catalytic converters have been used less frequently to process pollutants. This means the PGMs inside them will have less corrosion making them more valuable and therefore more desirable to thieves.
Given the cost of replacing the catalytic converter, some of these stolen parts now may be ending up on websites such as eBay and Gumtree as second-hand parts, commanding a price tag of hundreds of pounds. However, due to the way they have been cut off during the theft, some could be making their way to illegal scrap yards who are more than happy to turn a blind eye and, perhaps, even pay cash.

Recognising this risk, many BMRA members are now following enhanced due diligence checks in an effort to ensure they are not accepting stolen catalytic converters. These include:
Walk-ins: Many operators no longer accept catalytic converters from customers who turn up at the door. In fact, many have even stopped quoting over the phone.
KYC checks: If they are approached by someone who has never done business with the company before, operators are taking extra care to check the provenance of the catalytic converters. This may include copies of V5 forms.
Type and volume: If someone tries to sell specific types of catalytic converters – usually the highly targeted hybrids or high-value vans – and in smaller volumes, operators are again taking extra care to check the provenance of the catalytic converters.
Where an operator buys in a bulk load that contains catalytic converters of concern, the vendor may be required to supply additional evidence as to the source of those catalytic converters.
Realising that it is challenging for owners to completely protect the catalytic converter on the vehicle, BMRA is currently working with different police forces across the country as well as online marketplaces, to tackle this issue. However, until the funding is in place to properly enforce the Scrap Metal Dealers Act, it is likely that these stolen catalytic converters will continue to find their way into to the arms of an illegal, cash-paying operator who cares little about their origin.