A piece of floating history at BMRA member, ELG
Visitors to the office of ELG Haniel Metals Ltd in Sheffield should be forgiven if they do a double take as they walk past a rather large, shiny bell; an incongruous item to be found in such a setting. What they don't know is that they are in the presence of history. For it is, in fact, the ship's bell of the RMS Lucania.
Launched in 1893 as part of the Cunard Line family, on only her second voyage, RMS Lucania took the 'Blue Riband' from her sister ship RMS Campania. In doing so, she became the fastest passenger liner afloat and it took five years for another ship to take the Ribbon from her.
RMS Lucania and RMS Campania served as major passenger liners for Cunard for 14 years until their size and speed was superseded by the four-funnel German superliners. However, Cunard was determined to regain dominance in ocean travel and, in 1902, agreed the construction of two replacement vessels. RMS Lusitania and RMS Mauretania were launched in 1907.
With the newer, faster ships taking over, on 7 July 1909, being surplus to requirements, RMS Lucania sailed her last voyage and was laid up in Liverpool. Barely a month later, she was badly damaged by a fire and five days later sold to T W Ward for scrap. Here, one can assume, the ship's bell was saved and kept as a piece of history.
Competing to rule the seas
Meanwhile, Cunard's competitor, White Star Line, had what was known as the 'Big Four' ships; RMS Celtic, RMS Cedric, RMS Baltic and RMS Adriatic. However, these ships were no match for Cunard's RMS Lusitania and RMS Mauretania in terms of size, luxury and speed.
Determined to outmatch Cunard, White Star ordered the Olympic Class ocean liners: RMS Olympic, RMS Titanic and RMS Britannic, launched in 1910, 1911 and 1914 respectively.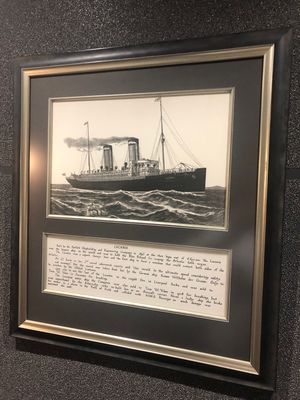 While the RMS Titanic was infamously lost having struck an iceberg, RMS Britannic, having been pressed into service as a hospital ship, was sunk in the Aegean Sea during World War I. As for the final sister, following retirement in 1935, RMS Olympic was scrapped with the hull being sent to T W Ward in Inverkeithing.
Curiously though, of the identical chandeliers from the First-Class lounges of these three liners, one is at the bottom of the Atlantic Ocean, one lies at the bottom of the Aegean Sea, and one is in the Cutlers' Hall in Sheffield, which is just about as far from the sea as you can get in the UK. (As an aside, Coton in the Elms is the farthest place in the UK from coastal waters.)
So, just how did the bell from RMS Lucania salvaged by T W Ward end up in Sheffield? In 1987, ELG Metals Ltd, National Scrap Metals Ltd and T W Ward (Steel & Alloys) Ltd merged together to form ELG Haniel Metals Ltd. Throughout these changes, however, RMS Lucania's bell remained a treasured possession and now acts as a reminder of the scrap metal industry's place in shaping history.
Thanks to ELG for helping with this article.