Export growth and highest annual turnover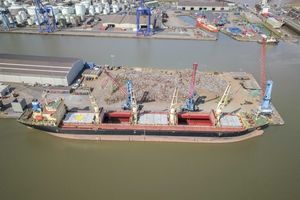 With the UK generating over 222 million tonnes of waste each year, recycling and waste management are booming sectors. They also export to a growing international market, helping this country manage its waste more sustainably while at the same time supporting jobs, boosting trade and helping to grow the economy. This is something which BMRA member, Ward, one of the UK's largest independently owned recycling firms, can attest to.
The fourth-generation family business achieved record turnover and international sales in 2023 at £312m, thanks in part to backing from UK Export Finance (UKEF), the government department responsible for issuing loans, guarantees and insurance. This service is available to ensure that no viable export fails for want of finance.
Ward specialises in metal recycling and waste management, helping a range of sectors reduce their impact on the environment by collecting their materials and recycling as much as possible. It serves a growing export market for recycled scrap metal, shipping reclaimed material to a global client base.
In 2022, HSBC UK agreed to provide export funding with backing from UKEF to help Ward expand and meet significant demand for recycled metal from clients in India, Pakistan, Turkey and Egypt. HSBC UK secured a loan guarantee from UKEF for an extra £9 million in financing, with the guarantee issued under UKEF's General Export Facility product; this allowed HSBC UK to release the funding to Ward. Through its GEF product, UKEF provides partial guarantees to banks which help UK exporters gain access to trade finance facilities.
Ward has since used the additional funds to increase the amount of metal for export which is processed and stored at its docks in Immingham and more recently Cardiff. This allows it to load multiple ships simultaneously – each carrying up to 20,000 tonnes of material – and therefore export more metal in less time. In March 2023, less than a year after UKEF unlocked this £9 million financing deal, Ward achieved its highest monthly export sales of metals.
Tim Reid, CEO of UK Export Finance, said: "Stories like Ward's show how UKEF, working with financial institutions like HSBC UK, can unlock new exporting opportunities for firms across the country.
"Backed by the right financing, innovative businesses like Ward are supporting growth and reducing waste in the UK whilst making global supply chains more sustainable – this is something which we are proud to support".
James Balfour, Finance Director at Ward, said: "We have seen a phenomenal year of growth since this financing was agreed. Support from UKEF and HSBC UK has allowed us to bring our exporting business to new heights, especially in Asia and the Middle-East. I'm excited to see how our team can build on this success."
Ward's exporting success was recognised with a Queen's Award for Enterprise for Excellence in International Trade in 2022.