25 November 2022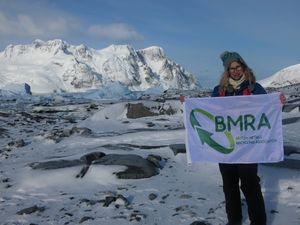 In March, BMRA announced it was supporting Caroline Marriage as a participant 2041 Climateforce Expedition to Antarctica. The expedition was a unique opportunity to learn from experts in the world of climate change and sustainability whilst seeing first-hand the impact of climate change on the landscape and wildlife of Antarctica: the last untouched piece of the globe.

Caroline will be presenting her trip via a webinar at 10am on 25 November 2022. She will share learnings and photos from her climate change and sustainability and leadership development expedition, and explain how she can take these forward to educate others. There will also be the opportunity to ask Caroline questions.

To join the webinar email [email protected] and she will send you a link. The webinar will be available to watch after the event

Caroline said:
"I was very pleased to be able to carry the flag for the BMRA while I was out there. It is clear that being able to recycle the precious resources that we use on a daily basis is going to play an important part in limiting our impact on the planet. Cutting our global carbon emissions is crucial if we want to avoid catastrophic levels of warming and reducing the energy consumed in manufacturing processes will go a long way to help."